Configuring Picky Assist Mobile Application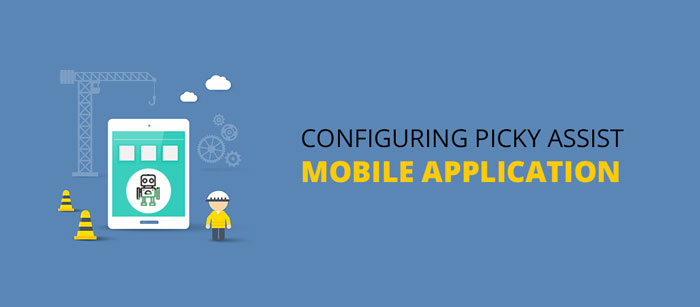 Configuring Picky Assist Mobile Application
Picky Assist mobile application is the core module of the project which act as a middleware between your application and different messages application installed in your mobile phone.
Picky assist mobile application is seamlessly connected with picky assist cloud servers to automate the messaging services, i.e whenever a new message received in your mobile application picky assist mobile app push the details to your server and reply will be posted back to the corresponding messaging app.
Without installing the picky assist app its not possible to automate the messaging services.
If you have not downloaded the mobile app yet, please download the same from this link https://play.google.com/store/apps/details?id=com.picky
Step 1
After installing the mobile app, the very first step you need to do is to Give Notification Access to the Picky Assist App,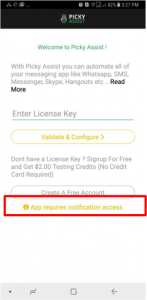 Click On the "App Required Notification Access" and Give Access to Picky Assist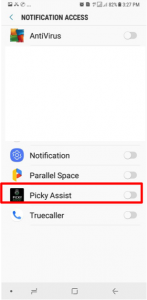 Make sure the Notification is also turned on for the messaging app you would like to automate with Picky Assist, for example if you want to automate Whatsapp Business make sure the notification alert is turned on for Whatsapp Business
Step 2
Enter the License key of the project you created in the Picky Assist Console and Click " Validate & Configure" button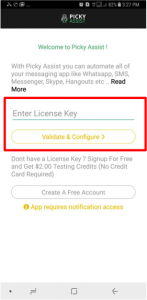 If you see the below dashboard it means that the application is successfully configured with your Project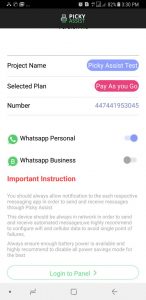 Step 3
The last and final step is to Give access to the Picky Assist App to Start automating your OTT Messaging App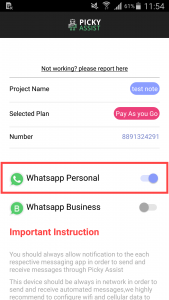 Testing your Installation
Once the installation is done, you can easily test by just sending a whatsapp message to your number , if the message is showing in the "Inbox" of the Picky Assist Console that means the App is sucessfuly configured.

Configuring Static Auto Reply
You can configure static auto reply for all your incoming messages from the Picky Assist Console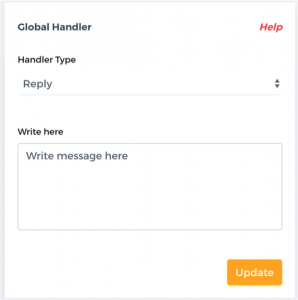 Configuring Webhook & Dynamic Reply
You can configure Webhook from the Picky Assist Console so that you can send and receive messages right from your server / application