Integrating Picky Assist with Google Sheet – Exam Result Publishing LIVE Demo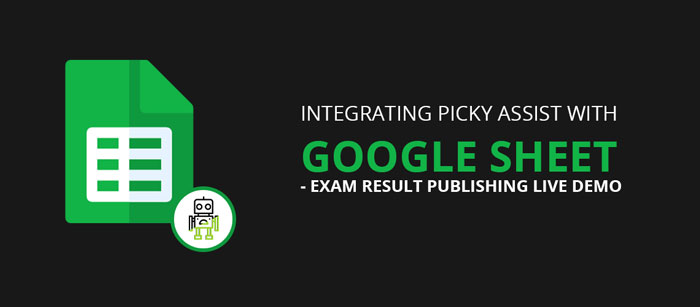 Integrating Picky Assist with Google Sheet – Exam Result Publishing LIVE Demo
In this use case we will demonstrate how to fetch data from a Google sheet and provides dynamic reply to the Sender and store the conversation details into the same google spreadsheet.
To make this demonstration more practical we can say that the Google sheet is maintained by an educational institute with their annual result.
Now students or their parents can get the result by just sending the roll number to the school WhatsApp number or School Facebook Page Messenger
To seem demo with Whatsapp send R<space>101 to 918943791982 or Click the link to send a whatsapp message
To see LIVE Demo with Facebook Messenger Click Here & type "R 101" in the messenger chat window.
This is how the school annual result Google Sheets looks like , you can see there are 3 worksheets result | inbox | settings
For better understanding you can view the Google Spreadsheet from this link http://bit.ly/2JBptLW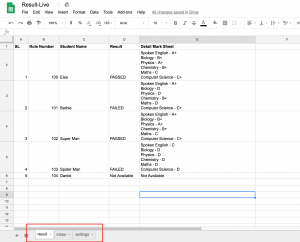 Exam Result Details
The results are uploaded by the school to the "result" worksheet as shown below, Click the link to see LIVE Google Spread Sheet http://bit.ly/2JBptLW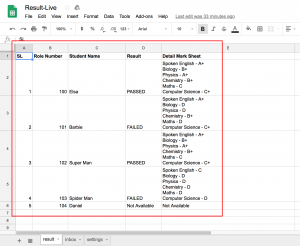 If you send R 101 from your WhatsApp number to 918943791982  you will get a message which is corresponding to the 101 row in the result worksheet.
Similarly if you send R 102 or any other roll number which is the "Roll Number" column you will get a reply message with the result stored in the corresponding row of the "Roll Number"
Storing Incoming Message Details
Now if you switch to the Inbox worksheet you can see that the incoming message and reply given by the chatbot is displayed here, Click the link to see LIVE Google Spread Sheet http://bit.ly/2JBptLW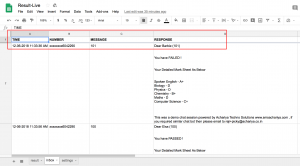 Storing Message Format
Now we have one more worksheet called settings which stores the format of the message, Click the link to see LIVE Google Spread Sheet http://bit.ly/2JBptLW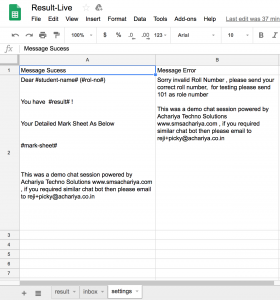 This is just an example for demonstration purpose similarly we can retrieve, insert ,edit and delete any data stored in the Google sheet and can integrate with WhatsApp, Facebook messenger or any other messaging application including SMS.

Do you have a Google spreadsheet or offline excel sheet and want to give dynamic informations to your customers similar to the above demonstration, then we are happy to provide you with tailor made solution based on your requirements , Please send your detailed requirements to reji+picky@achariya.co.in
Google Sheet Use Cases
Google Sheet is a very powerful tool which can maintain, track , analyse all your data in whatever way you want,  like you can maintain fee payment details, student details, parent contact details, students weekly report, attendance report, activity report, progress report and much more , please watch the few video tutorials from Youtube what all Google Sheet can do in Education Industry
Track Student Progress with Google Sheets
Create your class attendance record using Google Forms and Google Sheet.
The Basics of Google Sheets for Students and Teachers
Progress Report Card Preparation  in Google Sheet