Picky Assist App Version Releases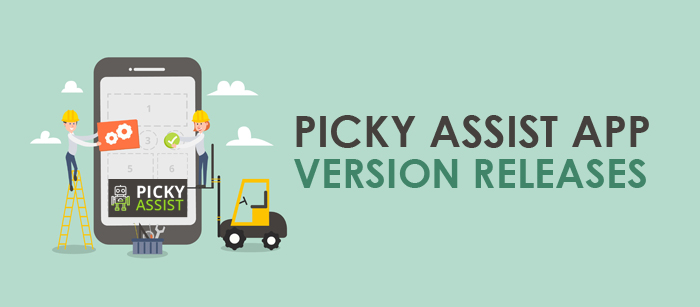 This document keeps the Version Releases of Picky Assist App including Alpha, Beta & Stable Versions , always keep the updated version for best performance , if the latest version dont work then please uninstall and install the older versions and report the issue to support@pickyassist.com
Phone & OS Recommendation
Operating System Version : Picky assist is fine tuned for Android 5.0 to 6.0 versions however we support all OS above Android 5.0 and we highly recommend to avoid Android 7.0,  7.1 & Android GO Edition.
Phone : Support almost all phones, in certain Chinese manufacturers we have observed accessibility access gets deactivated automatically which prevents sending messages sometimes , recommended hardware specs is 1 GB RAM , 500 MB Free Storage. Thoroughly tested with Samsung, Lenovo & Asus Phones. We dont support Phones which are powered by Android Go Edition.
Disable Google Play Protect & Anti Virus
In some phones we have observed that google play protect or anti virus installed in the phone automatically revokes certain permissions of the app which results not sending messages automatically. So we recommend to turn off Google Play Protect & Anti Virus. Please note there are no security breach with our app read more about our Data Processing Agreement
Not Supported Cloned Apps
The app won't work with any cloned environment like parallels. WhatsApp installed as dual messenger in the phone also won't work smoothly.
Before Installing the App please read the installation document carefully and ensure the app is correctly configured. Watch the Video Tutorial  
SL
Description
Download Link
Version & Release Date
Known Issues
1

Queuing Logic Optimised for concurrent messaging

Solved Messaging Missing Issues in few devices

Solved All Crash reported issues in many devices

Improved Automation Flow

Recommended Update for All Customers
Beta V 4.2
Beta V4.2 - 25-02-2019
2
Minor bug fixes, app crash issue fixed in few devices
Beta V 4.1
Beta V4.1 - 04-02-2019
Android 7 or above in few devices reported Image not sharing, if you face similar issues then please degrade the app to 3.8 Version and report us
3
Call Conference moved from Alpha to Beta with all issues fixed

Logout Option added to change the project without uninstalling the app

Device ID can be copied by just tapping on it

App permission shortcut added to App home page "Set Permission"

Beta V 4.0
Beta V4.0 - 19-01-2019
4
Alpha Version with Call Conference Support , Required Android 6.0 or above to work Call Conference Service , More Details About Call Conference Click Here
Alpha V 3.9

Alpha V3.9 - 21-12-2018
Conference get disconnects if any of the call get disconnects

If one call is not attended not dialling the next number in the conference

Dialler is not switching back to the phone default dialler after the call conference ends

Duration of all Conference calls are not updating correctly
5
USA Number Format Issue Fixed

Fixed App Crash Issues in few Android Versions

Auto Wakeup in every 24 hours to avoid putting app into force sleep from Android 6 or above

Optimised for Android 8 (Oreo)

Automatic Crash Reporting Integrated

Contact Name replacing with Number as saved in phone contact, works only if one number is saved against a contact.

Disabled notification dismiss except WhatsApp

Improved broadcaster flow
Beta V 3.8

Beta V3.8 - 27-11-2018
6
Contact Sync Method Optimised for Broadcaster

Optimised Message Processing Flow

Supports Message Queue Stop, Resume & Delete from Web Console
Beta V 3.7
Beta V3.7 - 22-10-2018
7
Beta Release with Remote Device Management Feature
Beta V 3.6
Beta V3.6 - 11-10-2018
8
Alpha Release with SMS & Missed Call Automation
Alpha V 3.5
Alpha V3.5 - 05-10-2018
Not able to identify on which number SMS & Call received in Dual SIM Phones
9
Stable Release Picky Assist Bridge App
All beta issues fixed
Stable V 3.1
Stable V3.1 - 25-09-2018
10
Supports WhatsApp Business

Contact Sync with WhatsApp to avoid blocking

You can now set delay between 3 to 1200 seconds between each message (Recommend delay 10 seconds)

UI Enhancements

HTTP Image URL crash issue fixed

Option to See Message Queue Count & Delete it

Beta Version 3
Beta V3 - 21-09-2018
In some phones image not working

WhatsApp Business contact selection get stuck in few phones
11
Fix download media issue in few devices and bug fixes
Beta Version 2
Beta V2 - 11-09-2018
Not able to send to contacts if number not saved in phone and synced to Whatsapp
12
Beta Release - Broadcaster Feature
Beta Version 1
Beta V1 - 07-09-2018
Media from http source were not getting downloaded
13
Alpha Release - with Broadcast Feature
Broadcast Alpha Version
Alpha - 07-07-2018
14
Picky Assist Auto Reply - Stable Release
Auto Reply Stable Release
Stable V1 - 05-06-2018
Not supported broadcaster, smart replies