Picky Assist Partner Program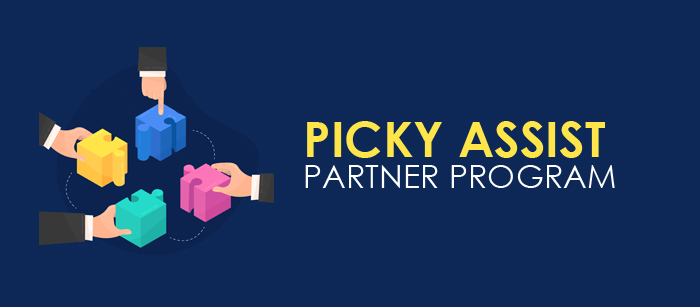 Picky Assist Partner Program
At Picky Assist we believe in building great communication products and solutions for all the industries around the globe, we are a group of hardcore professionals having 13+ years of solid expertise in Chat Bot, Artificial Intelligence, Machine Learning, Advance Robotics, Internet of Things (IOT), Web & Mobile Technologies.
Founded in February 2018 head quartered in USA – Delaware and operates globally with 200+ monthly paying customers from 20+ countries and growing 500% monthly.
We are looking for self ignited companies or individuals around the globe to partner with us in our upcoming journey , we are working with many patent pending technologies in automation, IOT, AI  and expected to release more products & services in the upcoming months.
Our Upcoming Product & Services
Chatbot Builder : A visual chatbot builder for all messaging application , customers  can create conversational chatbots without a single line of code. Drag and drop builders , easy to use , AI powered , Custom Fields and much more.
Pickly : Our Patented IOT device which can attach to the Android 3.5 Ear Jack to automate Telephony  – Auto Answer Call with Welcome Message, Build Inbound or Outbound IVR , Record Calls, Text to Speech & Speech to Text , Click to Call, Call Conference, Outbound Dialers & Much More..
Cloud Telephony : A truly scalable cloud telephony services including Global Messaging, Global Calling, DID Numbers, 2 Way Messaging including Short & Long Code, SIP Channels & Automation powered by AI, ML & NLP technologies.
Watch Our Video Promo 
Watch Picky Assist Features At Glance
Type of partner programs
Channel Partner
Whitebabel Partner – All Products
Whitelabel Partner – Picky Assist Bridge App
Channel Partner 
Channel partner is the partner program best suited for individuals or companies who are engaged in reselling  SaaS, hardware , software, IOT devices or having a technical team to build custom products based on Picky Assist API's. Primary work of channel partner is to onboard more customers from their respective country.
We will provide you with a partner console through which you can create new customers , manage customers , activate customers, add credits etc
We will provide commisison as per the below slab , more money you invest more commisison you will get , please note we dont charge any upfront in the model all amount can be 100% reusable with no validity.
| SL | Amount | Commission % | Credit You Get |
| --- | --- | --- | --- |
| 1 | $500 | 20% | $625 |
| 2 | $1000 | 25% | $1250 |
| 3 | $2000 | 30% | $2600 |
| 4 | $5000 | 35% | $6750 |
| 5 | $10000 | 40% | $14000 |
It takes 10-15 working dates to activate your channel partner account after we receive the first payment.
Whitelabel Partners – All Products
Whitelabel partner program is best suited for anybody who would like to establish their own brand name in the market using Picky Assist core products and services , we will re-brand the mobile applications, web console, IOT device* (upcoming) in your company name and provides you with a super admin panel to manage all your customers , payments, licenses , site contents, pricing etc.
It works with your own domain/sub-domain, mobile app and web console will get rebranded with your company name and logo. Its 100% fully managed and hosted solution by us, you just need to market the product to the needy customers around the globe in your brand name.
One Time Non Refundable Solution Cost : $ 10,000
Per License Flat $15 per month  
It takes 20-30 working dates to activate your full whitelabel console and mobile app after we receive the Solution Cost of $10,000
*IOT or hardware devices rebranding based on certain volume based commitments
Whitelabel Partners – Picky Assist Bridge App
If you wish to rebrand only the picky assist bridge mobile app  and build your own console or want to integrate with your exiting products or services then below are the charges
One Time Non Refundable Solution Cost : $ 5,000
Per License Flat $10 per month  
It takes 15-20 working dates to provide with a custom mobile app build after we receive the Solution Cost of $5,000
Getting Started
Based on your selling capability and requirements please select the best program suited for you and send following details to support@pickyassist.com
Your Name
You Company Name
Country
Your Nature of Business
Contact Number (WhatsApp)
Interested Partner Program Type