Sequence Automation Getting Start Guide
What is Sequence Automation ?
Sequence Automation helps to automatically send series of messages to subscribers. i.e Picky Assist can automatically followup customers who made enquiry about any of your product or services.
Let's explain with an example , a car dealership got a sales enquiry through WhatsApp and obviously they need to followup with the customer to get the sales closed. Picky Assist can do the followup automatically like after 2 hours of the last message it can send a brochure, after 2 days it can send a message with few video reviews and after a week it can send an offer without any human interventions.
Getting Started
You can create a sequence by giving a name and optional description. Click on the Sequence name to start adding series of messages into the sequences

Adding Messages
Now you have to start adding messages into the series which need to send automatically based on the time as set by you.
Step 1
Give A Name to the Message for your internal reference, like "Welcome" "Offer" "Testimonial" etc
Step 2
Compose the message you need to send , can attach media and personalise the message with attributes
Step 3
Specify when the message should be triggered , you can specify the interval in Days, Minutes & Hours from the last message in the series sent, suppose the first message in the series sends after "1 minute" from the subscription time and next message in the series is set to send after 7 days from the last message sent.
Please note the first message in the sequence will be used the user subscribed time i.e when the user sends a first message to your whatsapp / sms number and the remaining message series will follow the last message sent time.
If you dont want to get the messages delivered on odd times then specify the exact time so that even if your customer subscribed at night the further messages from the sequence will not get delivered at night.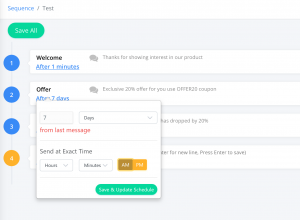 Changing Message Sending Order
You can drag and drop the messages to change the message sending order, mouse over the order number then click and drag to change the order as shown below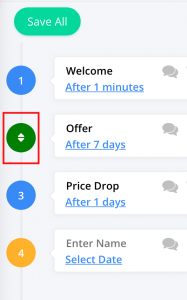 Disabling a message in a sequence
You can disable a message in a sequence by simply turn it off as shown below ;

Getting Total Message Sent Count
You can see how many times a particular message has been send to the subscribers in a sequence as shown below

Viewing Number of Subscribers in the Sequence 
You can view how many subscribers are in the sequence by just clicking on the Subscribers column as shown below,

On clicking the subscriber count you can see the subscriber details as shown below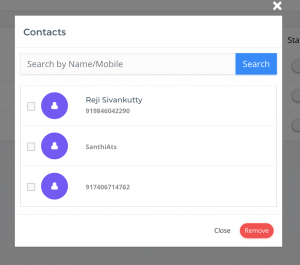 Adding Subscribers Manually
You can add subscribers manually into a sequence list by clicking on the "Add Subscriber" under the action column as shown below;

You can also take duplicate of the sequence by clicking the "Make Duplicate" under the action column as shown above
Auto Subscribing to A Sequence
You can make your customers auto subscribe to a specific sequence by just selecting the sequence from the Settings-> Sequence Auto Subscription as shown below
You can make one customer subscribed to multiple sequences as per your business needs;