Signup User Verification Forget Password Newsletter Subscriptions through Picky Assist Using Whatsapp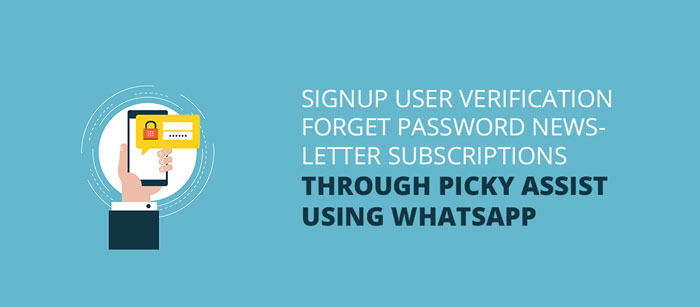 Lets discuss how picky assist can helps a developer to build Signup , User Verification, Forget Password, Newsletter, Subscriptions through Whatsapp easily;
Signup 
Avoid lengthly forms and get more signups , tell your customers to simply send a message to your whatsapp number  as below
SIGNUP <space> Name <space> Email <space> Password <space>Country
If you are using the Picky Assist project for many other purposes then make the "SIGNUP" as the main keyword to identify the task and process the data after the keyword considering space as a delimiter between each record , on receiving the message in correct format make them subscribe your service and reply with a welcome message.
If you wish you can even make a conversational signup flow as below 
SIGNUP <user sends this to get start>
Welcome to Picky Assist ! May i know your name to create an account for you?
Danny
Can i have your email address Danny?
danny@pickyassist.com
Thanks, Can i have your country Danny?
Singapore
Great, Please set your password for your account !
mypassword12 <you can even generate a link to set the password>
Thank You Danny ! We have created your account successfully , please login to https://pickyassist.com to get started with our services, at any point of time if you need any assistance simply send "HELP" to this chat or send an email to support@pickyassist.com
User Verficaiton
Sometimes developers observe some suspicious activity in login or while doing a transactions and they need to authenticate the user before granting the access , lets see how we can do it ;
Generate a Unique Code and show it to your customers asking them to send the code from their registered whatsapp number to your whatsapp number.
On receiving the correct code from the correct mobile number in your application grant access to the login or authenticate the transactions.
Forget Password
Offer frictionless password reset option for your customers with Picky Assist , simply tell your customers to Send a whatsapp message as "Reset Password" from their registered mobile number.
Once you receive the "Reset Password" message in your application simply reply with the Reset Password Link from where they can configure new password.
Email / SMS / Whatsapp Subscription
Similar to Signup flow create two keywords for Subscription and Un-subscription for example SUB & UNSUB and ask your customer to send whatsapp message to your number.
SUB<space>Name<space>Email
UNSUB
Above are just few examples how Picky Assist can be effectively used with Whatsapp for automating different activities. Read How to Use Whatsapp Official API for triggering a Message