Smart Replies Getting Start Guide
What is Smart Replies ?
A Virtual Agent works 24 x 7  for your business powered with Artificial Intelligence (AI) & Machine Learning (ML) , Lets your customer gets answers vIa WhatsApp / SMS using Picky Assist Smart Replies without any LIVE agent or employees at backend. With the help of smart replies you can keep your business open 24 x 7 without any employees. 
How it Works?
You can add relevant keywords , questions , dialogues and its answers into smart replies. Based on your customer enquiry it will give automatic replies  through Whatsapp / SMS
Where to Use ?
It can be effectively used for answering the most frequently asked questions related to your business like , list of your services/products/menu , pricing & plans, payment options, working hours , your shop location , features about a particular product , sending images & videos of an item requested by customer etc.
You can attach media files also in the smart replies, for example if you are a car dealer and customer need picture of a specific car model through whatsapp then you can set the car model name as question and in the answer upload the car image with description. When the customer sends the car model name through whatsapp smart replies sends the image and its description as reply to the customer.
For Developers
If you are a developer then you can combine smart replies with webhook and able to dynamically give answers from any 3rd party API , customer queries like "whats the current weather", "whats the cricket score" , "current account balance" , "last 5 transactions" etc can be fetched from a remote server and sends as reply.
Getting Started
Smart Replies  has 3 modules , Train, Learn & Stats
Train
Using the train module you can train the virtual agent by adding more questions, dialogue, keywords and their best answer, you can also upload FAQ from an excel /csv sheet.
Adding Questions & Answers
You can simply add questions and answers as shown below, if you would to segregate the questions by category you can do the same by adding more categories ;

Add more variants of questions to get more accurate results For better result avoid attaching interrogatives like how, what, when, etc in your question. for example "what is your working hours" here you can add only "working hours" "office hours" "office timings" You can separate each word / sentence using space or comma.
Formatting Answers
For a new line space use Shift + Enter and to format the answer you can use bold , italics, strike and emoji's as show below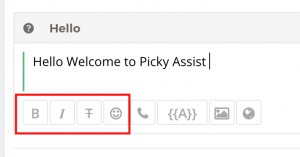 Sending Replies with Media Files
You can send a reply message with media files as well , click on the image icon and attach your media file.
Personalising  Replies with Attributes 
You can personalize the response using  the attributes which are saved in your Social CRM which will help you to to greet customer with their name or any value stored in the attribute against the customer like Age, Last Order Details, Current Plan, Address etc
Giving an Instant Call Back
Using the call conference feature you can give an instant call back on receiving specific keywords from your customers , like you can set keywords help, call back , call me etc and enable the call back for it,
To configure a call back click on Call Icon and on the popup please input the mobile / landline number along with the country code of the agent and give optional agent name for your internal reference, system will call the agent first then the customer. Please note this feature will work only from Picky Assist Bridge App Version 4.0.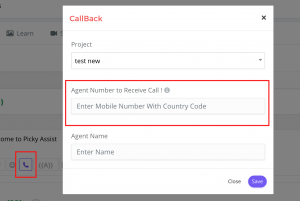 Triggering Webhook
You can enable webhook against each question , if you enable webhook then you need to give response through webhook itself. For more details on configuring webhook Click Here 

Importing or Uploading Bulk Questions / FAQ 
If you have a FAQ list then it can import it into the smart replies , please make sure the faq is in an excel sheet , to upload FAQ simply click on upload and follow the instructions on screen;

Configuring Fall Back Response 
Fall Back or Default response is useful when the bot is unable to find a relevant answer to the customer query , you can specify the fall back response from the "Setting" tab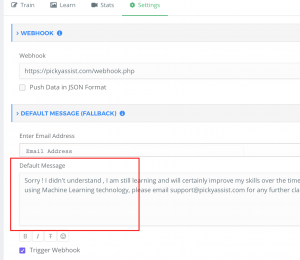 You can also opt to receive instant update via email to take immediate action, separate email accounts by comma. Developers can trigger webhook. 
Enabling Small Talks
Small talks are collections of casual conversation. This feature can greatly improve the user experience by covering common questions that may not pertain to your core FAQ
You can enable the smart talks as shown below, once the smart replies are enabled you can customise the replies.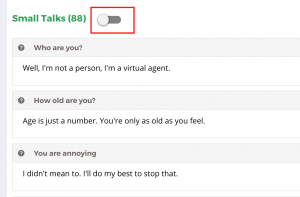 Testing the Bot 
Its important to test the bot before deploying into production , once all the questions and answers are added you can test the same using the test chat widget placed in the right bottom corner of the page as shown below;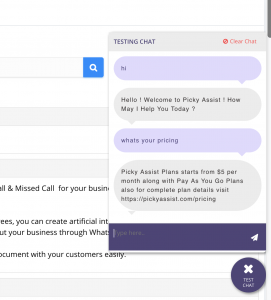 Going LIVE 
Once the testing is completed you have to make the smart replies "Online" from the top left as shown below; before making LIVe make sure you "Save" all the questions and answers.

If you would like to disable the smart replies you can simply switch it into "Offline" mode anytime.
Learn
Questions which are not answered by the bot will be listed under this tab. You can manually review the questions and add the best answer so that next time your customer will get the most relevant answer.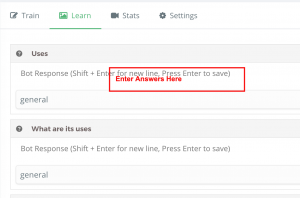 Stats
Stats module gives you an overview what your customers are really demanding and searching among your products or services. You can get question wise counts asked by your customers between any dates, by default the system shows today's data, using the filter you can search stats between dates.

Settings
In this section you can configure Webhooks , Default Fall Back Message & Applications 
Configuring Webhooks
If are a developer and want to give dynamic replies from your application then please specify the URL here, you have the option to push data in JSON format also , for more details please refer the API Documentation 

If you configure webhook here then global webhook if any configured under the main Settings section will be ignored.
Selecting Channels 
You can specify to which channel / application the smart replies need to be configured , suppose if you dont wish to send smart replies via SMS then it can turn it off here. If you are using WhatsApp Personal & Business under same license then you can specify the channel here.