Step By Step Getting Start Guide
Step By Step Getting Start Guide
This guide will help you to get started with picky assist services , before getting start you must install and configure the picky assist bridge mobile app correctly in your mobile phone where the whatsapp, sms and call automation is required.
You can refer following links , if you have not completed the basic steps
Step 1 : Picky Assist Bridge Mobile App Install Guidelines
https://pickyassist.com/support/configuring-picky-assist-mobile-application/

Step 2 : Creating Projects & Getting License Key
https://pickyassist.com/support/creating-a-project-getting-licensing-key/
General Terminology
Developers Mode : Developers API to integrate picky assist with your application.
API Token : A unique key used to authenticate your API Requests for sending messages
Webhook : A URL which you can set to receive event notification in your server like receiving a whatsapp message, call etc
GUI Mode : Graphical User Interference or Web Control Panel to visually configure picky assist service without any technical knowledge
Projects : A project you can create for a customer or a mobile device / whatsapp number. You can create unlimited project under a login and manage them , each project having separate billing.
Wallet : A secure place where payments are digitally stored, the value of the amount held in the wallet is in USD. This wallet will get debits when you use the services , it get credits when you make payments. The wallet is global for all your projects under a single account.
License Key : When you create a new project you will get a new license key which required to activate the picky assist bridge mobile app.
Picky Assist Bridge App : Android Mobile Application which acts as a bridge between your phone and our servers. Without this app automation services will not work 
Channels : Social Media / Messaging services are called as channels, WhatsApp , SMS , Call etc are channels
Subscribers : The end user who sends you a WhatsApp / SMS / Calls is defined as a Subscriber. The subscriber count will update only if the user contacting you through any of the channels.
Select Working Mode
The very first thing you need to do is to decide how you want to use the picky assist platform for your business , to understand what picky assist can do your business please watch the video https://youtu.be/pBl9P_5VJYM or read different use case http://pickyassist.com/usecases
Developers Mode

GUI Mode
Developers Mode
If you wish to integrate picky assist into your existing server / application or software for enabling 2 way communications through WhatsApp, SMS & Call Conferences then you have to make use of our Webhook & API's.
Please note in order to configure webhook and API you need a software developer. Our API Works with any programming language and operating systems.
Webhook
Webhook helps you to receive incoming messages , webhook will trigger  whenever a new event occurs in your connected phone / device like a New WhatsApp Messages arrives , A New Call Comes, A New SMS Arrives etc , whenever a new event occurs in your connected phone / device we will push the details into your server through the URL configured by you.
API
API helps you to send messages out, API can use to start a conversation with your customer, it supports sending text and media files, voice api allow you to start a call conference or click 2 call using your connected device.
Getting Started Developers Mode
To get started with Developer mode the very first thing is to get an API Token, you can generate API token through GUI Mode / Web Control Panel. To understand how to configure webhook and API https://pickyassist.com/support/configuring-webhooks/
API Documentation V2
You can download complete API documentation(V2)  from this link http://pickyassist.com/app/downloads/Picky-Assist-Broadcaster-API-Documentation-V2.pdf
Testing Webhooks
After configuring mobile app and webhooks send a message to your whatsapp / sms number and the message will be listed in your Web Console under "Messages" menu
General Usage of API & Webhooks
Build Innovative communication solution across all industries, few use cases are Sending OTP,

Reminders, Alerts , LIVE Chat, Invoices, Sending Quotations, Sending Product Images &

Videos , Sending Greeting Cards & Videos , Shipping Alerts , Absentee List, Click 2 Call, Call

Conference, Missed Call Based Support , Missed Call based call back and much more.
GUI Mode
GUI Mode or Graphical User Interference Mode is referred as Web Platform which allows you to visually configure your project without any technical knowledge or help from a developer.
First lets get familiar with menu and its functional use
Dashboard
Dashboard gives you a quick overview of how many subscribers you have , how many messages are sending and receiving, your billing plan against each project etc.
You can edit / delete a project details as shown below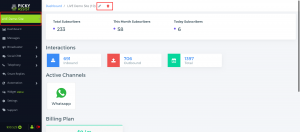 Switching Projects
If you have more than one project then you can switch it easily from the left top side bar as shown below
You can also create new projects from this section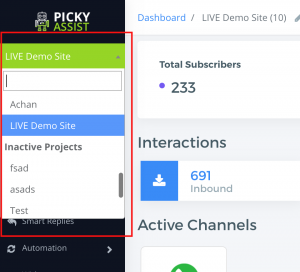 Messages
Here you can see all your incoming and outgoing messages, you can filter the messages between dates, by default the systems shows the today's messages. You also have the option to export the messages to Excel / CSV.
You can test your picky assist bridge app configuration by sending a whatsapp / sms to your number and if its displaying here it means the picky assist mobile app is configured correctly.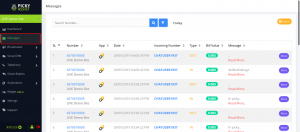 Keep touch with your customers through WhatsApp & SMS using Broadcaster feature , send your product Images, Videos , Audio & Documents to customers in bulk using our Broadcaster Tool. See Getting Start Guide Broadcaster 
Smart Replies helps you to keep your business open 24  x 7 without any need of employees. You can engage your customers through WhatsApp, Website & SMS using our Artificial Intelligence Powered Chatbots. Getting Start Guide Smart Replies 
Manage Your Customers Through A Unified Inbox for Social Messaging, SMS & Calls. Features like Categories , Tags, Tickets, Notes, Attributes, Task and much more integrated seamlessly into Social CRM. Getting Start Guide Social CRM 
Connect with your customers instantly using the same phone number of whatsapp / sms through integrated telephony services like Call Conference , Click 2 Call. Getting Start Guide Telephony – Call Conference 
Send automate sending messages to your subscribers as per the time delay configured by the business. In simple sequence automation ables to create a set of messages which need to be automatically sent based on the time you set. Getting Start Guide Automation – Sequence
Widget helps you to integrate Smart Replies directly into your Webpages so that your website visitors ables to get their queries answered 24 x 7 through Smart Replies. You can also connect with your customer through Click 2 Call , WhatsApp  & SMS. Widgets are powered with Smart Replies so Smart Replies must be enabled and Online in order to get started with Widget. Getting Start Guide Widget
Settings
In the settings section you can manage , Channels, Webhooks, API Tokens, Billing,  Black Lists , Devices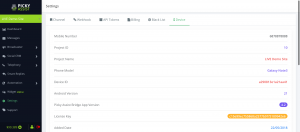 Channels
Here you can turn on or off specified channel. For Call Channel you can configure additional action like Sending A WhatsApp Message, Giving an Instant Call Back etc
Webhook
You can configure webhook to send incoming events to your server, Read More About Webhook Here
API Tokens
API Token required to authenticate broadcast API's in order to send messages from your application / server . Download API Documentation V2
Billing
You can see billing plan of the selected project here. You can easily subscribe to any other plan from this section.
Black List
Black List WhatsApp / Mobile Numbers here , messages from these numbers will not further displayed to you , please add numbers along with country code without 0 or +
Devices
Here you can see connected device details for whatsapp automation, you can also see your license key, device id,  device battery percentage, internet status, messages in queue and can also delete messages which are queue or stop all queues in your connected mobile device