Telephony Call Conference Click 2 Call Getting Start Guide
What is Call Conference & Click 2 Call?
Call conference service allows to make call conference with upto 5 numbers using your existing SIM Card & mobile phone , your Android phone will act as a gateway to facilitate the call conference service through picky assist bridge mobile app.
Click 2 Call allows to connect with your customers quickly and offer toll free / call back service for your customers. Your customers can request a call back by placing a missed call , sending an SMS , sending a Whatsapp message etc , once the customer placed the request our system will first call your agent number and then customer.
Developers can use the Conference API to programatically place calls right from their application / server. For More Details Refer API Documentation V2
Where it can be used?
Call Conference can be used for group meetings, client discussions, support department, sales meetings , review meetings  etc
Click 2 Call can be used for providing instant call back services for support & sales, you can configure
SMS to Call
Missed Call to Call
WhatsApp to Call
Integrate to your Website / Blog
Before You Start 
Before you start using the call conference & click 2 call services please ensure followings;
Make sure phone language is to english,

Your Android version should be 6.0 or above

Picky Assist Bridge

Mobile app version is 3.9

or above in installed in your phone
Call conference services must be enabled in your SIM Card , please check with your telecom carrier.
Settings in Picky Assist Bridge Mobile App
You must ensure the settings are correctly configured in the picky assist bridge mobile app in order to work the call conference service smoothly.
Change the Dialer
Your phone default dialer must be changed to picky assist dialer , to change the dialer open picky assist app and tap on "Change Dialer"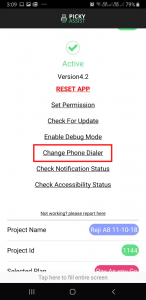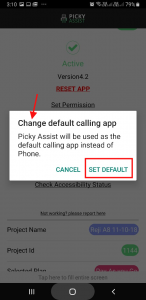 Enable Call Conference Service in the Mobile App
You must enable the call conference service in the mobile app as shown below;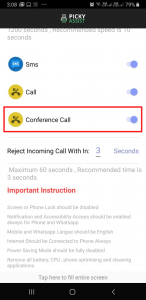 Getting Started – Call Conference 
You can initiate call conference from your web console , go to Telephony -> Call Conference
Manually Inputting Numbers to Call
You can manually input upto 5 numbers in the text area as shown below. Please separate each number by comma or enter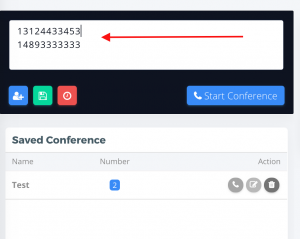 Selecting Number From Existing Subscribers List
You can select the numbers from the existing subscribers by clicking the Add Subscriber icon as shown below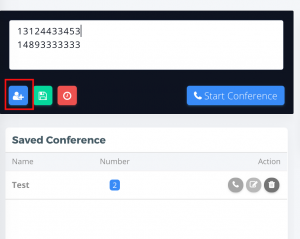 Saving Call Conference 
You can Save a conference to launch it quickly as shown below, give a name to save conference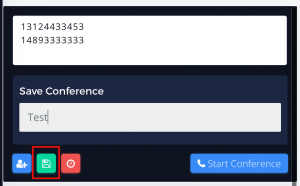 Scheduling A Conference 
Scheduling a conference allows you to start a conference at a time specified by you , please note we follow time zone in your profile.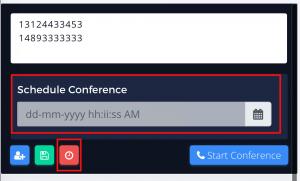 Starting Conference From Saved List
All saved conferences are listed as shown below, you can click on the Call icon to start the saved conference , you can also edit and delete the saved conference by clicking the edit and delete icon as shown below;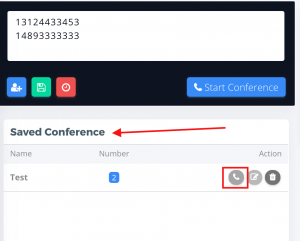 Getting Start with Click 2 Call 
Click 2 call services can be effectively used with Missed Calls , SMS & WhatsApp , before getting start please make sure picky assist bridge mobile app is configured correctly , open mobile app and enable Call as shown below
Reject Incoming Call Within Settings allows to instruct the system after how many seconds the call should be rejected.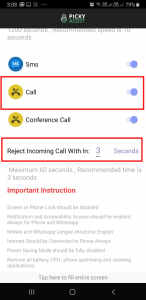 Configuring Click 2 Call Actions
Go to Settings -> Channels -> Call 
Missed Call – Event Actions – Sending SMS & WhatsApp As Reply Message
When a new call come after business hours reject the call and give a response message back via SMS / WhatsApp Personal / Business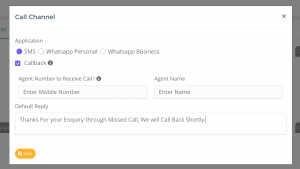 Missed Call – Event Actions – Instant Call Back
When a new call comes to your number you can reject  and configure instant call back to the customer by configuring an agent number.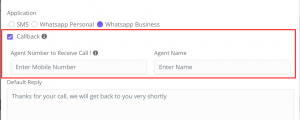 Instant Call Back Using Smart Replies
You can offer instant call back  when someone chatting through SMS / WhatsApp , configure call back conditions based on keywords in smart replies like call me, help, connect to customer care etc.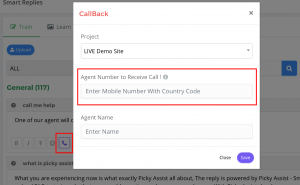 Getting Reports
You can get call report from the right side of the section , you can filter between dates or search a conference by its name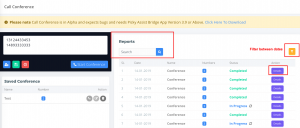 Getting Detailed Report
You can get mobile number wise report by clicking the "Details" and On Clicking "Call Again" you can start the conference again with the same numbers.