What is Intents in Smart Replies ?
Intents (beta)
Available only for beta testers 
Intent helps Smart Replies to identify the topic which your users are asking , add keywords which are most relevant to the specific topic in which questions are related in a category , dont add questions as intents.
Now let's see how intent works ?
Do you have an iPhone x ?
Yes, we do have an iPhone x !
Whats price of 64 GB ?
Its $499 and 10% offer on credit card payments.
In the second question the user don't specify the phone model but from the last question smart reply identified the intent as "iPhone x" and saved to context so the next question is answered intelligently like a human with the price of 64 GB iphone x.
Adding Intents
You can add intents against each category in the smart replies by clicking the "Add Intents" For an example if you are a mobile phone dealer and have 3 phone models and each phone model specs, price, feature may vary from one to another so here you can create categories for each phone model and add phone name, model name etc are as "intents"

Now add intents for  "iphone 10" category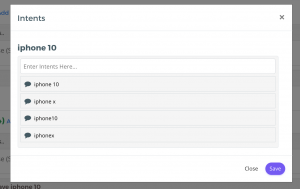 iPhone 10
iPhone x
iPhonex
iphone10

Dont add any questions to intents 
You can see we have added iPhone x and iPhonex in the intents iPhone space x and other intent is without space. In some cases the intent may not identify if the user types iPhonex or similar typo error. So for better responses add all possible variations or common typo errors as intents.
Next steps is to add as many as questions users are likely to ask about iPhone 10 under the same category.
Adding Questions 
You need to add all possible questions into the iphone 10 category , first list out all the possible topics which user are likely to ask ;
features
price
whats new
camera
charging
battery
storage
Once you identify the topics you can add these topics as questions against the category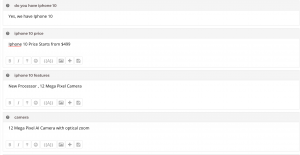 Now add more question variants against each topic / question for producing more accurate response, mouseover the question and you can see a green + icon and click to add more question variations

A popup will appear as below, you can add a question and press enter to add it , once you added all combination of questions then please click on Save.
You dont need to edit the intents shown in the popup , its the same intents you have added against the category and just displays here for your reference , you can see the category name also in the top of the popup