Groups are a great place to share ideas, discuss, keep informed, let's explore how we can make use of WhatsApp groups effectively for business.
Remote Work / Online Setlling
Education
Travel & Tourism
Manpower Consultancies
Stock Market Alerts
Hospitals
Seminars
Internal Communications
Tracking Field Staffs
Remote Work or Online Selling Usecase
With the Covid 19 remote working and online selling becomes more popular, let's see a few usecase;
Attendance reporting through Group and using the API sync the details automatically to any of the existing HRMS
Create WhatsApp Groups with Customers automatically to collaborate easily and integrate it with the existing Collaboration Software like Microsoft Team, Slack, etc
Monitor a group and sync all messages to an existing software
Create Admin Only Post Groups to broadcast marketing messages like whenever a new offer is created in Shopify or any Ecommerce Platform, let all users in the group get the message
Segment Users based on their preference and add them into the relevant groups to get a continuous update like News Alert, New Blog Posts etc, integrate deeply with WordPress or your Blogs
Solves customer's issues faster with Group by automatically creating groups and adding engineers, users and co-ordinator into a single group.
Broadcast important announcements, offers, information to an existing group for timely action like Daily Sales Report, Assign Task etc
Education
Groups are widely used in the education industry right from toddlers to universities
Share important announcements to parents
Share celebrations, picnic, event pictures and videos
Let parents clear doubts about programs and various events with teachers and school management
Let students discuss and clear doubts each other with the help of a guide or teacher
Organize Online Learning more effectively through Groups like "Learn English Through WhatsApp"
Travel & Tourism
Manage Group Tours hassle-free with WhatsApp Groups
Send Itinerary Details, Travel Schedules
Send Reminders, Important Informations, List of Important Documents to carry
Send each day schedules, places to visit, important information
Let group travelers shares photo and video each other
Share Location of Assembly point, parking point etc
Share Contact details of Guides, Hotel, Drivers, Emergency etc
Collect Feedback, Suggestions & Video Testimonials
Conduct Quick Polls & Voting for a better
Internal Communications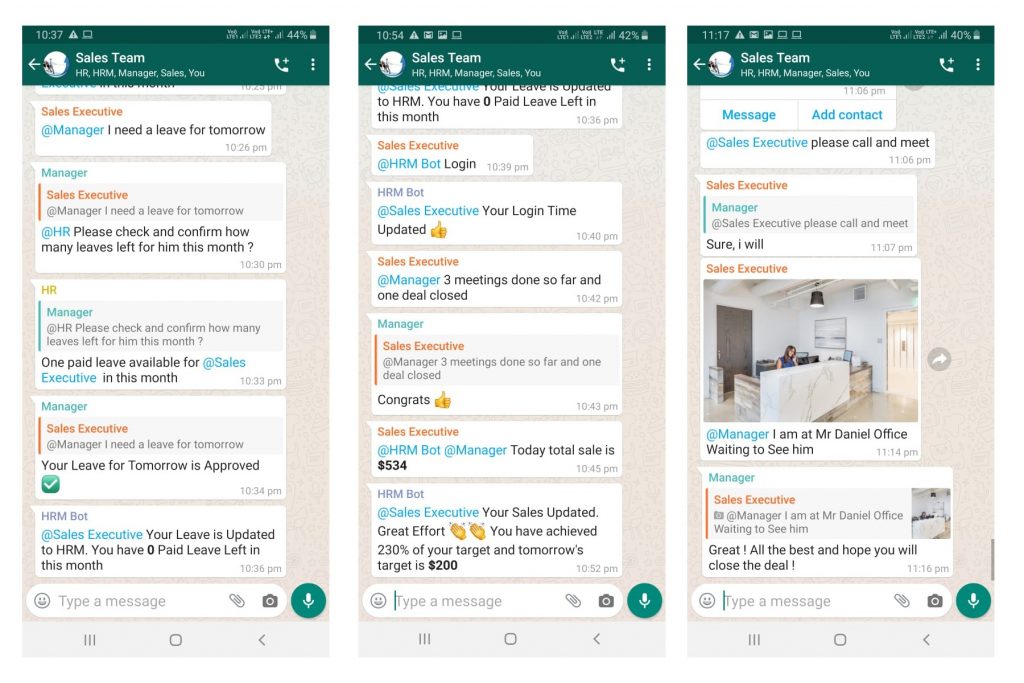 Approval
Take internal approvals quickly with groups, connect the groups with existing approval or workflow system to automate the approval system through WhatsApp Groups, make use of group mentions effectively

@Manager I need a leave tomorrow
@Employee Name, your leave is approved

Update the records automatically to HRM or let the HR in the group do this manually
Announcements
Let the company make important announcements through WhatsApp Group so that all are well informed.

Conduct Polls & Surveys
Make accurate decisions with polls sends to groups, employees can vote to a poll in a specific format like sending a keyword #support #notsupport
Manpower Consultancies
Organize manpower effectively with WhatsApp Groups
Create Groups for Employers to Post their Vacancies
Automatically Post New Job Vacancies to Candidates Groups
Stock Market Alerts
Create Portfolio-based WhatsApp Groups
Send real-time trading tips and suggestions
Let Customer ask a recommendation by mentioning Admin or expert member in the group
Hospitals
Make nurse and doctor communication more effectively with groups
Inpatient monitoring and send automatic alerts to the Panel of Doctors & Nurses when certain vitals of a patient goes below the specified limit.
Plan roaster and handover more effectively with groups, let all are updated with key vitals of an inpatient.
Create Groups with Ambulance drivers, Scanning Centres, Blood Banks for effective co-ordinations
Seminars
Seminars are a great place for networking, people used to exchange the business card and product flyers each other, lets this happens through digitally using WhatsApp Groups.
An organizer can create a group and share the invitation link with all participants via SMS or add participants into a group directly.
An organizer can share the seminar location map, an important point of contact, agenda of each session, the profile of the speakers etc
Let's all participant interact with each other and share their contacts and introduce about their company and products in a more professional way
Conduct Quick Polls & Surveys
Ask A Question to the discussion panel by sending a voice message or even
Groups are more effective than flooding with business cards and product flyers.
Tracking Field or Freelance Staffs
Tracking the productivity of the field employee is a challenge for many organizations. WhatsApp Group is one of the best effective methods to track them.
Ask employees to send attendance reports through Groups so that other employees and reporting manager can see when they are logged in.
When a new customer meeting is completed ask them to send the location and a few pictures of the customer's office or business card. The details can be extracted and stored in the Sales Software or HRM.
Sending daily Sales Reports, Field Visit Summary so that the manager and HR can efficiently track the productivity of each employee, which also motivates other employees to perform better.
Let them upload traveling bills and other reimburse bills by mentioning the accounts team, the details can be directly synced with the accounting systems.