Organizing work, visualizing tasks, and streamlining team collaboration are critical to successful project management. Trello has long been a favorite for these needs with its Kanban-based approach. However, Trello may not be for everyone. You might need more features, better integrations, or simply a different user interface. Thankfully, there are numerous Trello alternatives available in 2023 that are perfect for Kanban-style project management. Here's a look at the top nine.
What is Kanban board software?
Kanban board software is a digital tool that visualizes your workflow and simplifies the management of your tasks, projects, and teams. It's based on the Kanban method, a philosophy rooted in lean and just-in-time (JIT) production, originally developed by Toyota in the late 1940s to improve manufacturing efficiency.
The Kanban board itself is divided into different lanes that represent stages of a workflow. Each task or work item is represented by a card that moves from one lane to another as work progresses. The basic lanes on a Kanban board are "To Do," "In Progress," and "Done," but these can be customized based on the nature of the project or the team's workflow.
Key Features of Kanban Board Software:
Visual Workflow Management: Tasks are represented by cards on the board, and their positions help visualize their progress. This makes it easier to understand the status of tasks at a glance.
Work-in-Progress Limits: Kanban board software often allows you to set work-in-progress (WIP) limits. This feature is used to limit the amount of work that can be in a particular stage at a given time, preventing overload and helping to identify bottlenecks.
Real-time Updates: As cards are moved from one lane to another, the changes are updated in real time. This ensures all team members have the most current understanding of project status.
Collaboration Tools: Many Kanban board software solutions include features for commenting on cards, attaching files, and even integrating with other tools, making collaboration between team members easier.
Flexibility: Kanban boards can be used for a wide variety of projects, from software development to marketing campaigns, content creation, and more.
Reporting and Analytics: Some advanced Kanban tools offer features such as analytics and reporting, time tracking, and project forecasting.
Using Kanban board software, teams can become more efficient by seeing the bigger picture of the workflow, identifying bottlenecks and inefficiencies, and better managing their workloads.
How to Select the best Kanban Tool ?
The best Kanban tool should be able to fulfill the fundamental purpose of a Kanban system, which is visualizing work, limiting work-in-progress, and maximizing flow or efficiency. To achieve this, it should have several key features:
Intuitive Interface: The tool should be easy to use and understand. You should be able to create, move, and manage tasks easily.
Customizable Boards and Cards: A good Kanban tool will allow you to customize your boards to match your workflow, and also customize the cards to contain the information you need about each task.
Work-In-Progress Limits: This is a key principle of Kanban. The tool should allow you to set limits on how many tasks can be in progress at any given time to prevent overloading and identify bottlenecks.
Real-Time Updates: The tool should update in real-time so that everyone on the team can see the current status of all tasks.
Collaboration Features: A good Kanban tool should make it easy for team members to collaborate on tasks. This might include commenting, attaching files, and assigning tasks.
Integration Capabilities: It should integrate well with other tools your team uses, like communication tools (Slack, Teams, WhatsApp), document management (Google Docs, Dropbox), and other project management tools.
Reporting and Analytics: The tool should provide useful insights into your team's workflow, like how long tasks spend in each stage, where bottlenecks occur, and overall project progress.
Flexibility: Every team's workflow is different. A great Kanban tool should be flexible and adaptable to accommodate these differences.
Notifications and Alerts: These help keep everyone informed about task updates, due dates, and changes, ensuring that no task falls through the cracks.
Remember, the "best" Kanban tool depends on your team's specific needs and workflow. It's important to consider these when choosing a Kanban tool.
The best Trello alternatives at a glance
| Tools | Best for | Stand-out feature | Pricing |
| --- | --- | --- | --- |
| KanbanFlow | Simplicity | Built-in Pomodoro timer | Free for unlimited boards and users; $5/month/user Premium plan |
| Kanban Tool | Built-in time tracking and managing client projects | Great analytics | Free for 2 boards and users; from 6€/month/user Team plan |
| Workstreams.ai | Kanban within Slack | Task chat for every card that lives right inside Slack | Free plan for unlimited tasks and users; $9.99/month/user Pro plan |
| Kanbanchi | Kanban within Google Workspace | Tight integration with Google apps | No free plan; Premium plan is $16.99/month/user |
| Microsoft Planner | Kanban within Microsoft Teams | Deep integration with Microsoft | Free for all Microsoft 365 users on Business plans |
| Taskworld | Adding tasks to multiple Kanban projects at once | Shrink cards down to a single line of text | Free for up to 15 users; from $15/month/user Pro plan |
| MeisterTask | Keeping teams laser-focused on tasks | Clean interface despite added project management features | Free for unlimited members and up to 3 board projects |
| Kanbanize | Managing enterprise-level projects | Highly customizable and flexible workflows | From $179/month with a minimum of 15 users |
| Picky Assist | Kanban for WhatsApp | Integrates with WhatsApp with Chatbots, Powerful Automation, Customisable Card View | $49 for 10 Users and $5 per additional user |
The best Trello alternative for simplicity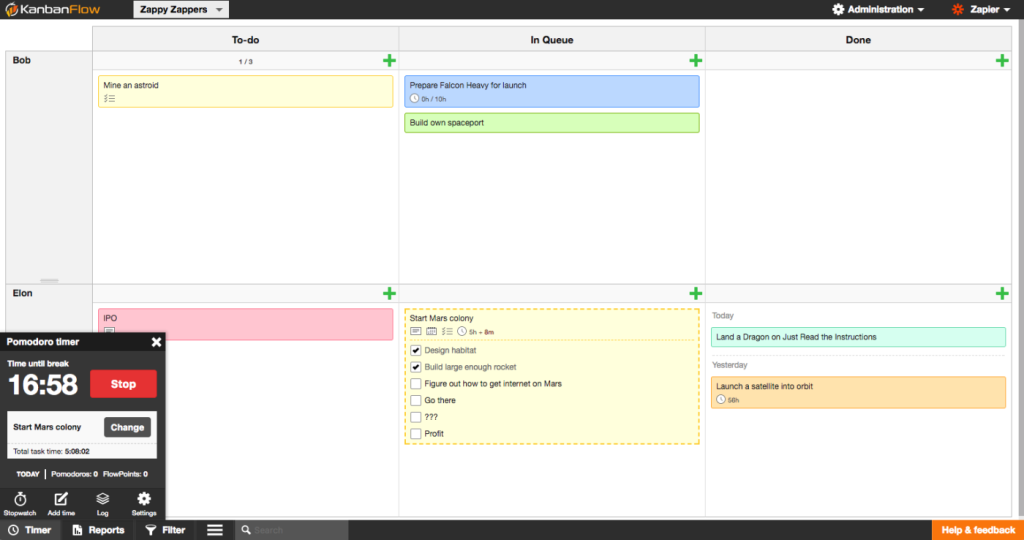 If simplicity and straightforwardness are what you're looking for, then KanbanFlow is a great alternative to Trello. Designed to increase productivity and minimize distractions, KanbanFlow offers a clean, easy-to-use interface where teams can quickly create boards and cards. The tool also includes time tracking and a Pomodoro timer to help teams work in focused spurts.
KanbanFlow price
Free for unlimited boards and users with core features; $5/month/user Premium plan for attachments
Best Trello alternative for built-in time tracking and managing client projects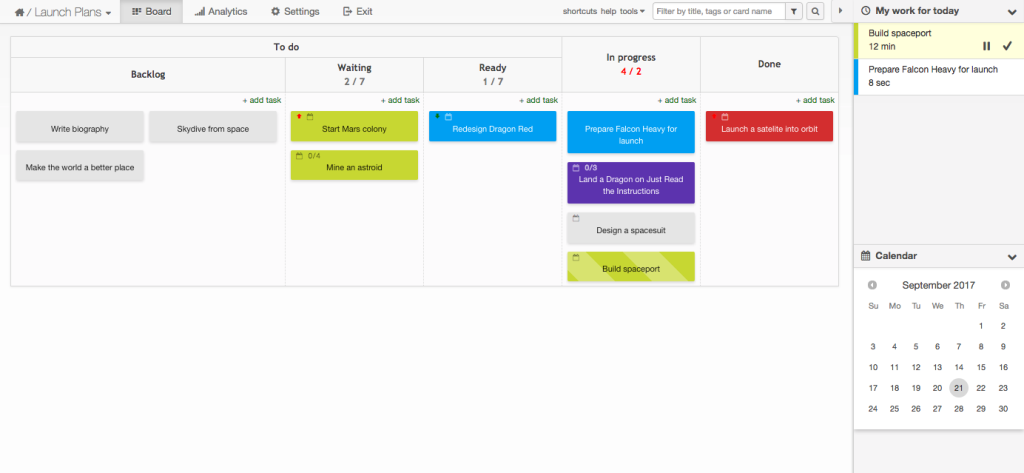 Kanban Tool is a versatile platform that shines in its built-in time-tracking feature. This enables managers to keep an eye on how much time each task takes, which is invaluable for optimizing future projects and managing client expectations. Furthermore, the tool has robust analytics and report generation capabilities for tracking team performance over time.
Kanban Tool price
Free for 2 boards and users; from 6€/month/user Team plan for unlimited boards and attachments. Time-tracking and reporting feature is available on the Enterprise plan at 11€/month/user.
Best Trello alternative for Kanban within Slack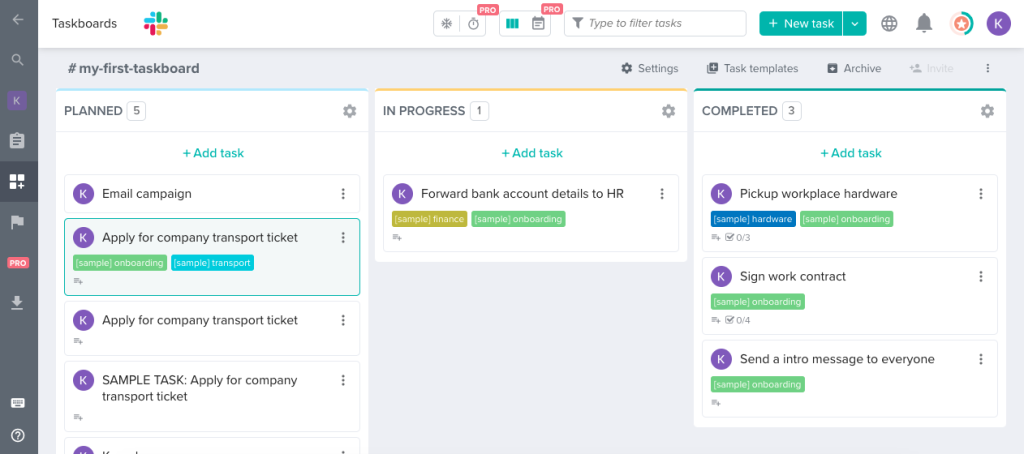 For teams heavily reliant on Slack for communication, Workstreams.ai is a fantastic choice. This tool integrates directly into Slack, allowing users to create, assign, and manage tasks without leaving their favorite communication platform. Its intuitive interface and smooth Slack integration make task management a breeze.
Workstreams.ai pricing
Free plan for unlimited tasks and users that includes all core features; $9.99/month/user for the Pro plan that includes Workstep automation, calendar view, and due dates.
Best Trello alternative for Kanban within Google Workspace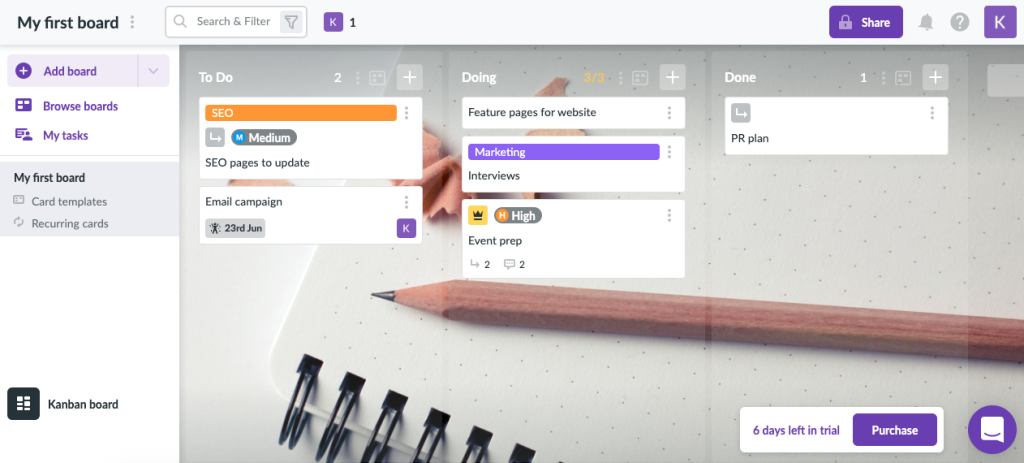 Kanbanchi stands out for its seamless integration with Google Workspace. If your team uses Google Docs, Sheets, or Drive regularly, you'll appreciate how easily you can create and manage your Kanban boards right from your Google Workspace. The tool also supports Gantt charts, which makes it easier to manage projects with overlapping tasks.
Kanbanchi price
No free plan; Premium plan is $16.99/month/user. If you want time-tracking and reporting, you'll need a Professional plan at $41.99/month/user.
Best Trello alternative for Kanban within Microsoft Teams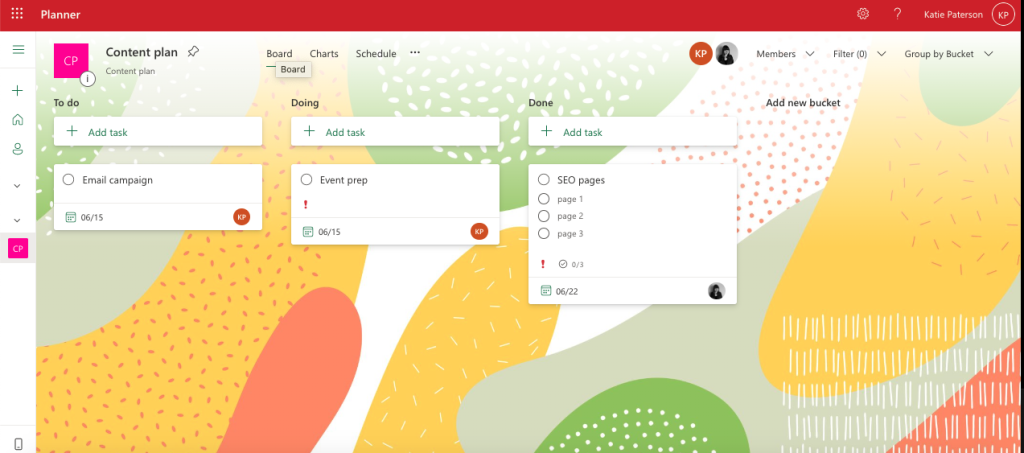 Microsoft Planner is the perfect tool for teams that rely heavily on Microsoft Teams for collaboration. This Trello alternative allows you to manage your tasks using the Kanban methodology directly within Teams. It offers an intuitive, simple-to-use interface and includes features like task assignment, progress tracking, and even file attachments.
Microsoft Planner pricing
Free for all Microsoft 365 users on Business plans.
Best Trello alternative for adding tasks to multiple Kanban projects at once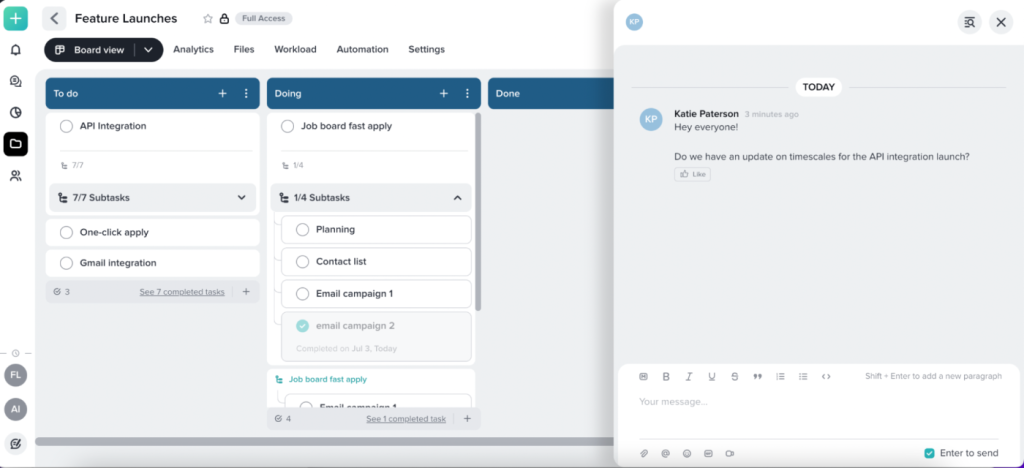 Taskworld is an excellent choice for project managers who need to add tasks to multiple Kanban projects at once. Its multi-project management feature simplifies the task of managing several projects simultaneously. Furthermore, Taskworld also includes project templates, time tracking, and performance metrics, adding to its overall versatility.
Taskworld price
Free for up to 15 users with unlimited tasks and projects; $8/month Premium plan for unlimited users and up to 10 guests; from $15/month/user Business plan that gets you up to 1 TB of storage.
Best Trello alternative for keeping teams laser-focused on tasks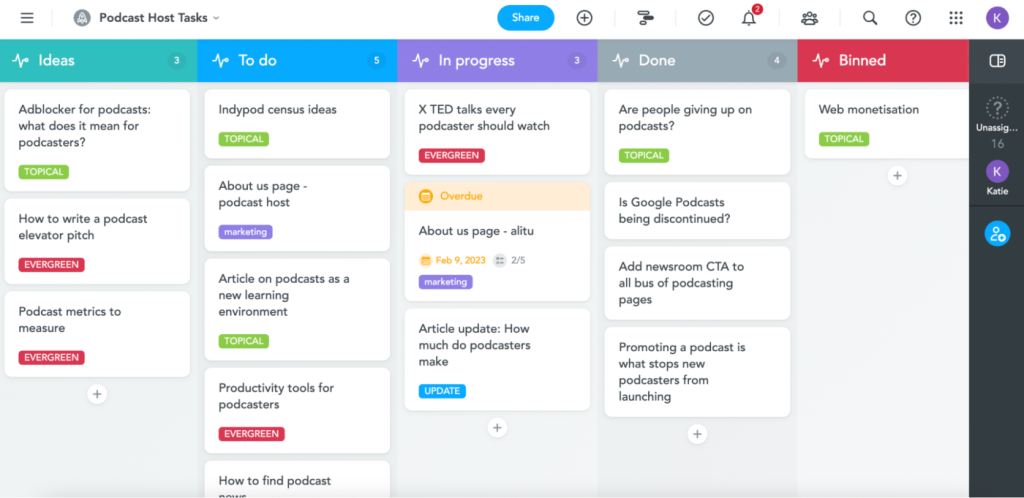 MeisterTask is designed to keep teams focused on their tasks. It offers a visually pleasing interface and offers features like task relationships, time tracking, and automation. Teams can customize their workflow stages, attach files to tasks, and even integrate with popular tools like Slack, GitHub, and more. The dashboard provides a quick overview of your tasks and their status.
MeisterTask price
Free for unlimited members and up to 3 board projects; $15/month/user for the Pro plan, which includes agenda and reports; from $29/month/user for the Business plan that gets you custom fields.
Best Trello alternative for managing enterprise-level projects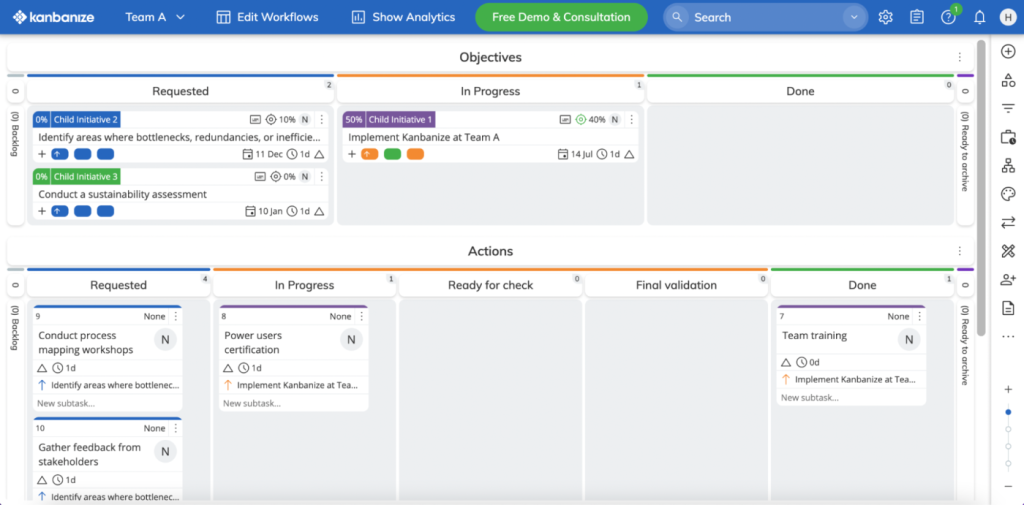 For large-scale, enterprise-level projects, Kanbanize is a robust option. It combines Kanban-style project views with a range of other project management features. Its expansive capabilities include project analytics, multiple workflows, dependencies, and even a powerful rule-based automation system. It's built to handle complex projects while still offering the visual ease of a Kanban board.
Kanbanize price
From $179/month with a minimum of 15 users (this works out at around $11/user/month). To add 10 Business rules to your company's plan, that's an extra $30/month.
Best Trello Alternative for WhatsApp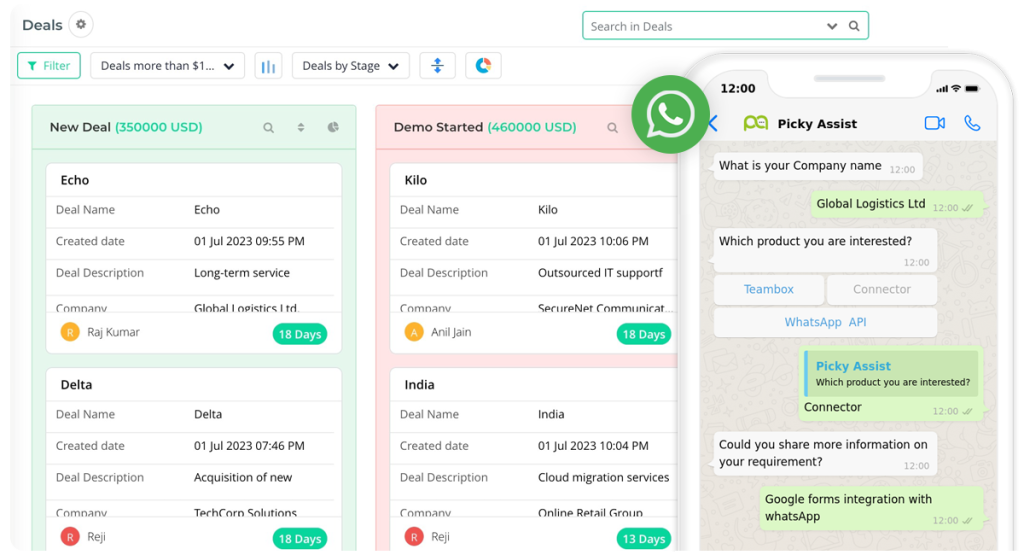 Last but not least, Picky Assist makes this list for its unique integration with WhatsApp. This tool allows businesses to manage their tasks and projects directly through WhatsApp, making it especially useful for teams who use this popular messaging app for communication. Apart from its Kanban capabilities, Picky Assist also includes features like automation, chatbots, and customer engagement tools. CRM and a complete business automation tools.
6 Reasons Why Picky Assist is the best
Picky Assist is a unique tool that offers several features that may set it apart from other Kanban tools, depending on your needs. Here are 6 reasons why you might consider Picky Assist:
WhatsApp Integration: Picky Assist stands out with its ability to integrate with WhatsApp. If your team frequently uses WhatsApp for communication, this feature can help streamline your workflow by allowing you to manage tasks directly through the app.
Automation Features: Picky Assist includes automation features that can help save time and increase efficiency. These include setting up automated responses, sending scheduled messages, and more.
Chatbot Capabilities: The tool also offers chatbot capabilities. This can help automate repetitive tasks and provide quick responses, improving the speed and efficiency of customer service and internal communication.
Customer Engagement Tools: Picky Assist includes tools for engaging with customers, including automated marketing campaigns and personalized messaging. This can be particularly beneficial for customer-facing teams and can help improve the customer experience.
Flexible and Adaptable: Picky Assist's range of features make it a flexible and adaptable tool. Depending on your needs, it can be used as a project management tool, a customer service platform, a marketing automation tool, and more. This means that it can adapt to a variety of workflows and use cases, making it a versatile choice.
Customizable Card Views: Picky Assist takes customization to the next level by allowing users to tailor the view of each card with different data fields. This means that each team member can adjust the card view to display the data that matters most to them, leading to a more personalized and efficient user experience. This feature enhances the adaptability of the tool, catering to diverse needs within a team or a project. It's especially useful in scenarios where different stakeholders require varied information from the same project.
Picky Assist Price
Free 7 days Trial, Paid plan starts from $14 per month for 2 users and $49 for 10 users additional $5 per user
Conclusion
There are a plethora of Trello alternatives in 2023 for teams seeking a Kanban-style project management tool. Whether you need better integration with your communication platform, more robust features, or a tool designed specifically for large-scale projects, these 9 alternatives offer a wide range of solutions. Choose the one that best fits your team's needs and improve your project management efficiency.