1. Background
Grandeur Hotel is an upscale global hotel chain known for its excellent hospitality services. Recently, they have been grappling with customer service challenges. Their customer service representatives are inundated with requests, bookings, and inquiries around the clock. The hotel understands that swift and accurate responses to these customer queries could significantly enhance their satisfaction levels and improve operational efficiency.
2. Objective
The hotel aims to use AI-powered chatbots to streamline customer interactions, enhance response times, improve guest satisfaction, and increase sales, all while reducing operational costs.
3. Implementation
To address these challenges, Grandeur Hotel turns to our no-code flow builder to create an AI-powered chatbot. The hotel's customer service team builds a bot using existing FAQs and conversation flows. The chatbot is equipped with information about the hotel's services, policies, room availability, pricing, and local attractions.
Automating the Sales Process
4.
In the competitive hospitality industry, enhancing customer engagement is paramount. This is where Picky Assist can be a game-changer, by automating and optimizing the sales process specific to hotels.
Hotel marketing managers employ a myriad of methods to market their properties, such as:
Participating in Trade Exhibitions
Conducting Road Shows
Social Media Campaigns
Newspaper Advertisements
TV and Radio Commercials
Bulk SMS and Email Campaigns
Distributing Flyers and Brochures
To capitalize on these efforts, an AI-powered chatbot like Picky Assist can be integrated across all marketing channels. This could elevate customer engagement by 50% on digital and social media platforms, turning passive viewers into active hotel guests.
The primary goal of these promotions is to generate leads and create brand awareness. To that end, a WhatsApp business number or a Facebook page, powered by Picky Assist's AI chatbot, can be incorporated into every promotional material. This interaction paves the way for instant communication, prompting potential customers to send a simple "hello" or any predefined keyword to learn more about the hotel or directly book a room.
Picky Assist's automated solution thus supercharges the hotel's promotional campaigns, transforming them into potent sales tools. It not only simplifies the booking process for customers but also enables the hotel's sales team to handle higher engagement without additional staff, boosting overall sales efficiency and productivity.
5. Automating Hotel Operations
24/7 Booking and Reservations
The AI chatbot handles bookings and reservations, allowing guests to secure their accommodations regardless of the hour. This feature proves to be particularly beneficial for international guests from different time zones.
FAQs and Inquiry Handling
The chatbot is programmed to answer a wide range of FAQs, including inquiries about check-in/check-out times, pet policies, availability of amenities, and more. This reduces the need for customer service reps to handle these routine queries.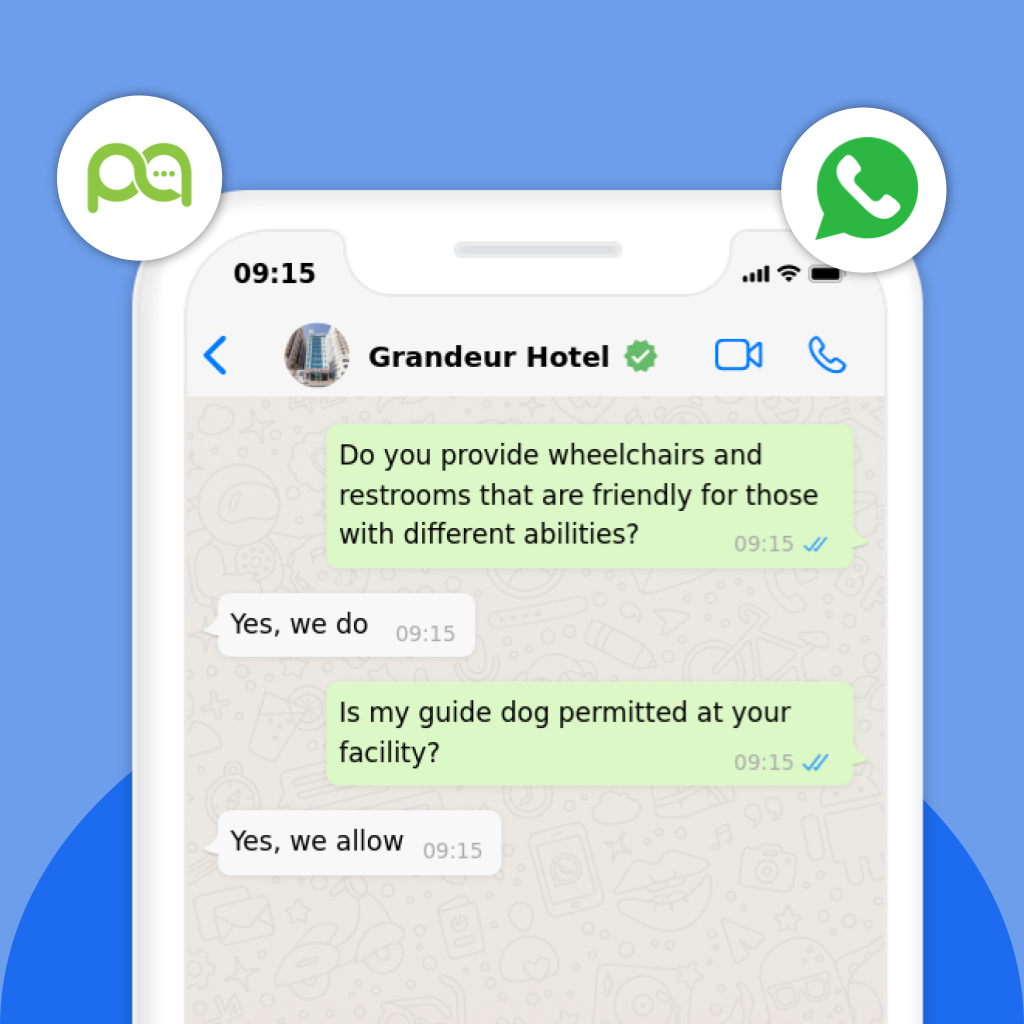 Personalized Recommendations
Using guest data (with proper permissions), the chatbot can provide personalized recommendations for spa services, dining options, and local attractions. This upselling and cross-selling capability contributes to a significant rise in sales.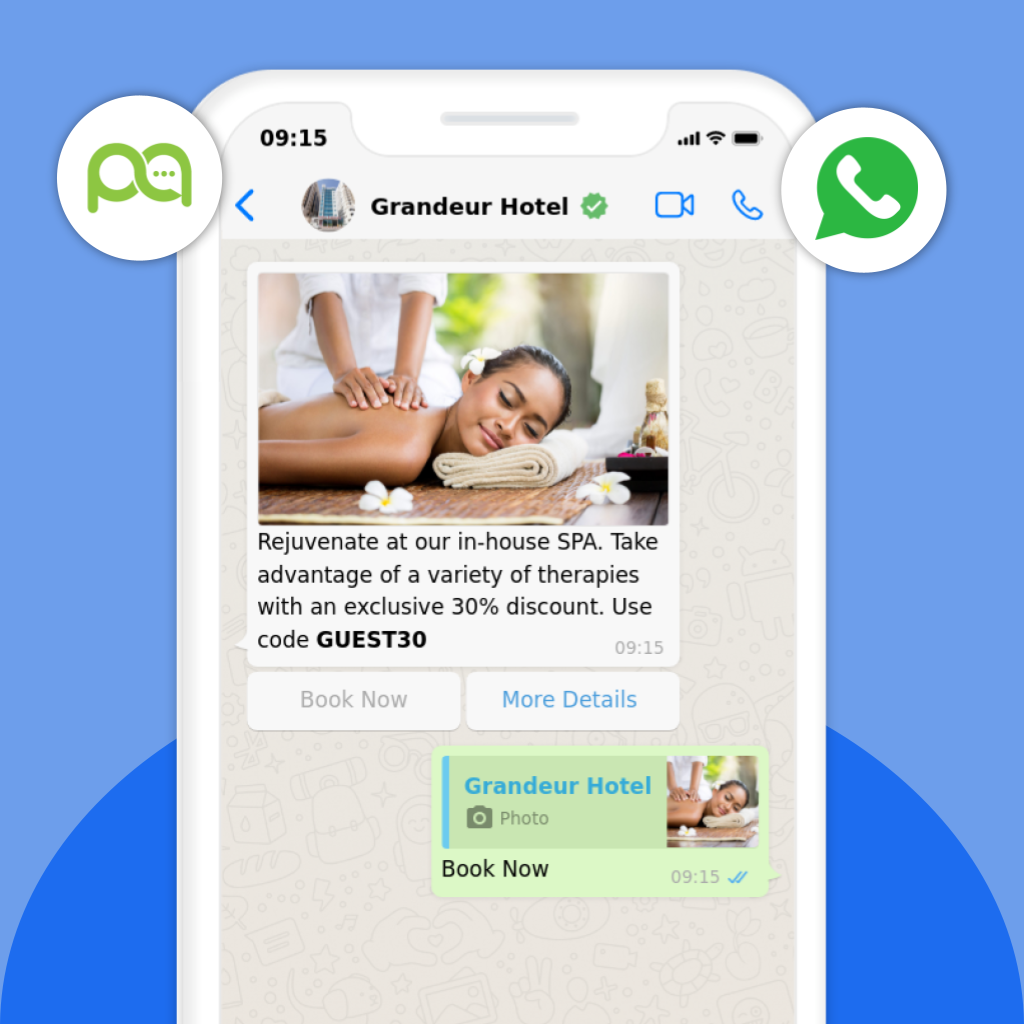 Room Service and In-House Requests
Guests can interact with the chatbot to place room service orders, request additional towels, or report issues. The chatbot automatically routes these requests to the appropriate departments, ensuring swift resolution and enhanced guest satisfaction.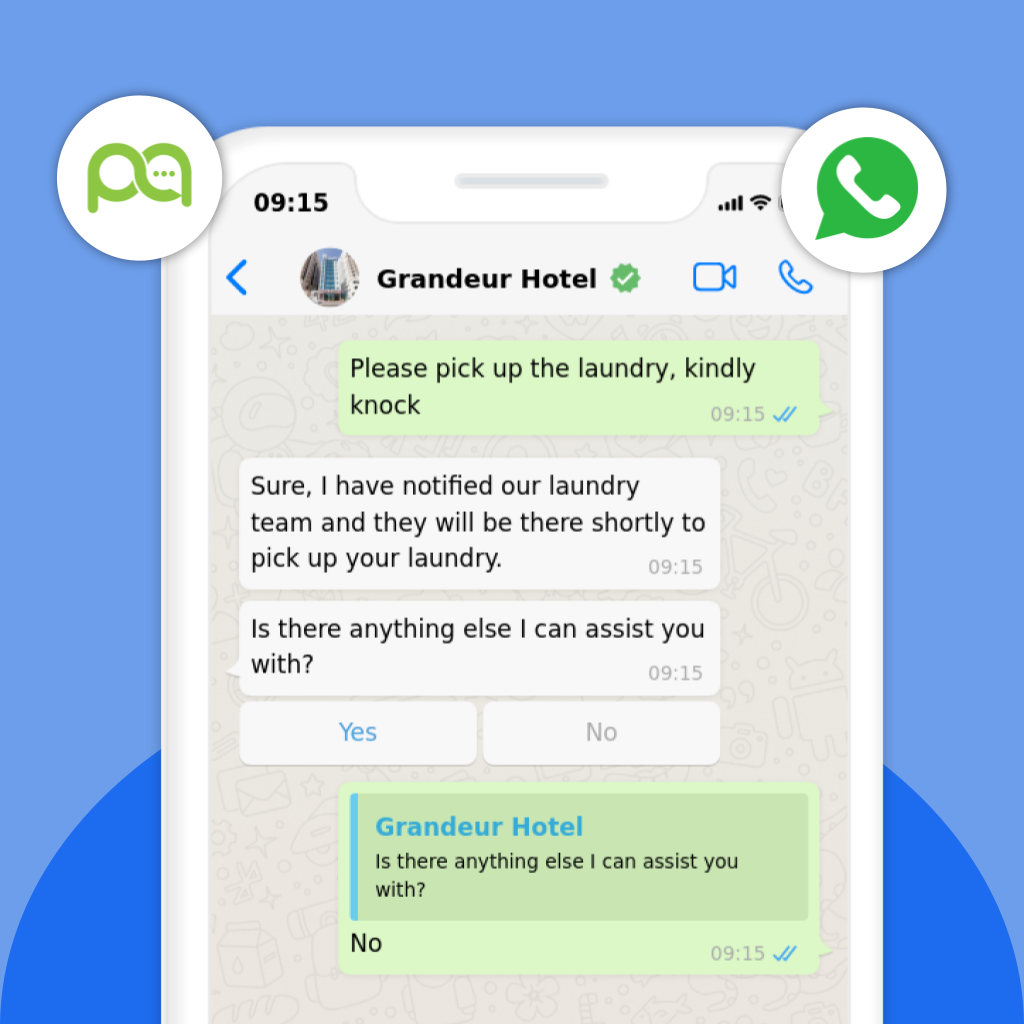 Feedback Collection
Post-check-out, the chatbot sends a feedback request to the guests, which helps the hotel improve its services and address any issues proactively.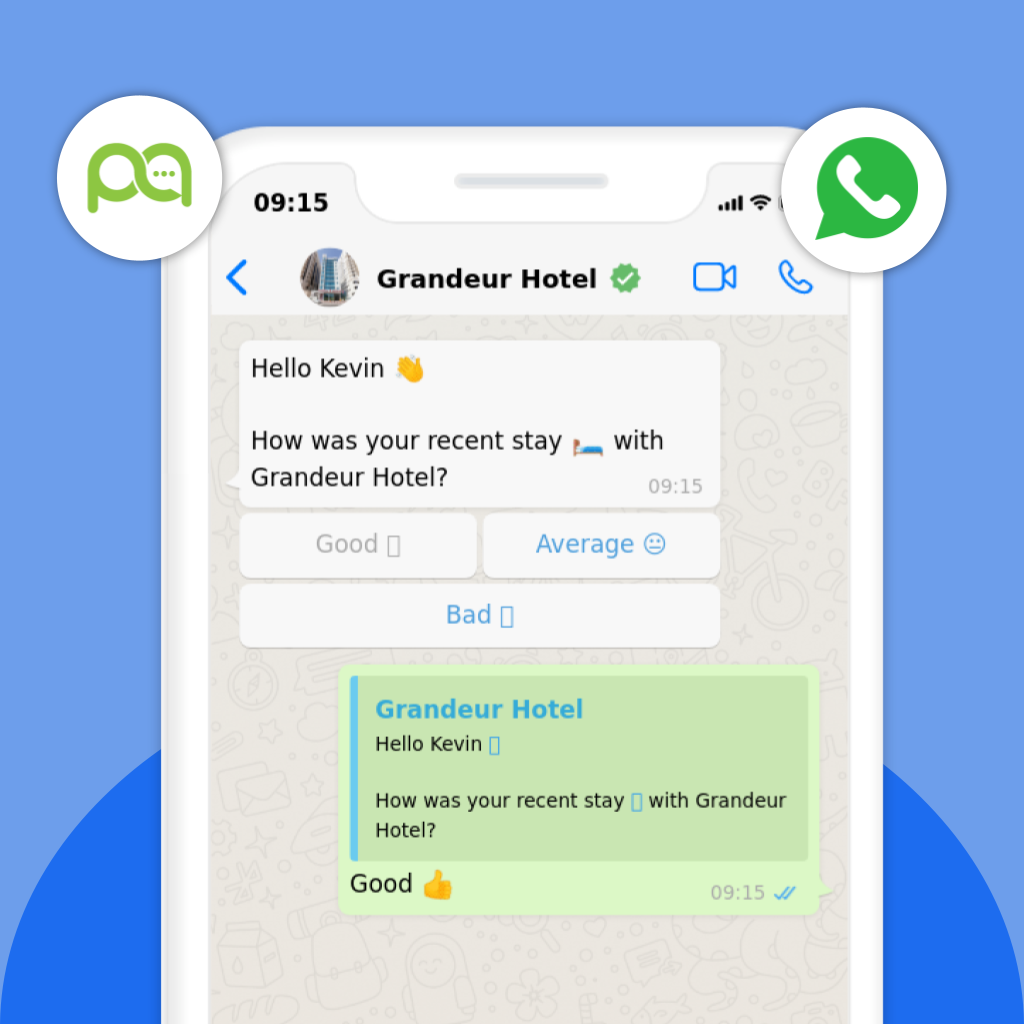 Loyalty Discounts
The WhatsApp Chatbot sends unique discount codes to loyal guests. These can be used for their next booking. Offering exclusive discounts can incentivize repeat business.
Referral Program
The WhatsApp Chatbot introduces a referral program to past guests. If they refer a friend who ends up booking a stay, both the referrer and the referred friend receive a discount on their next booking. The chatbot sends a unique referral code to the guest to share with their friends.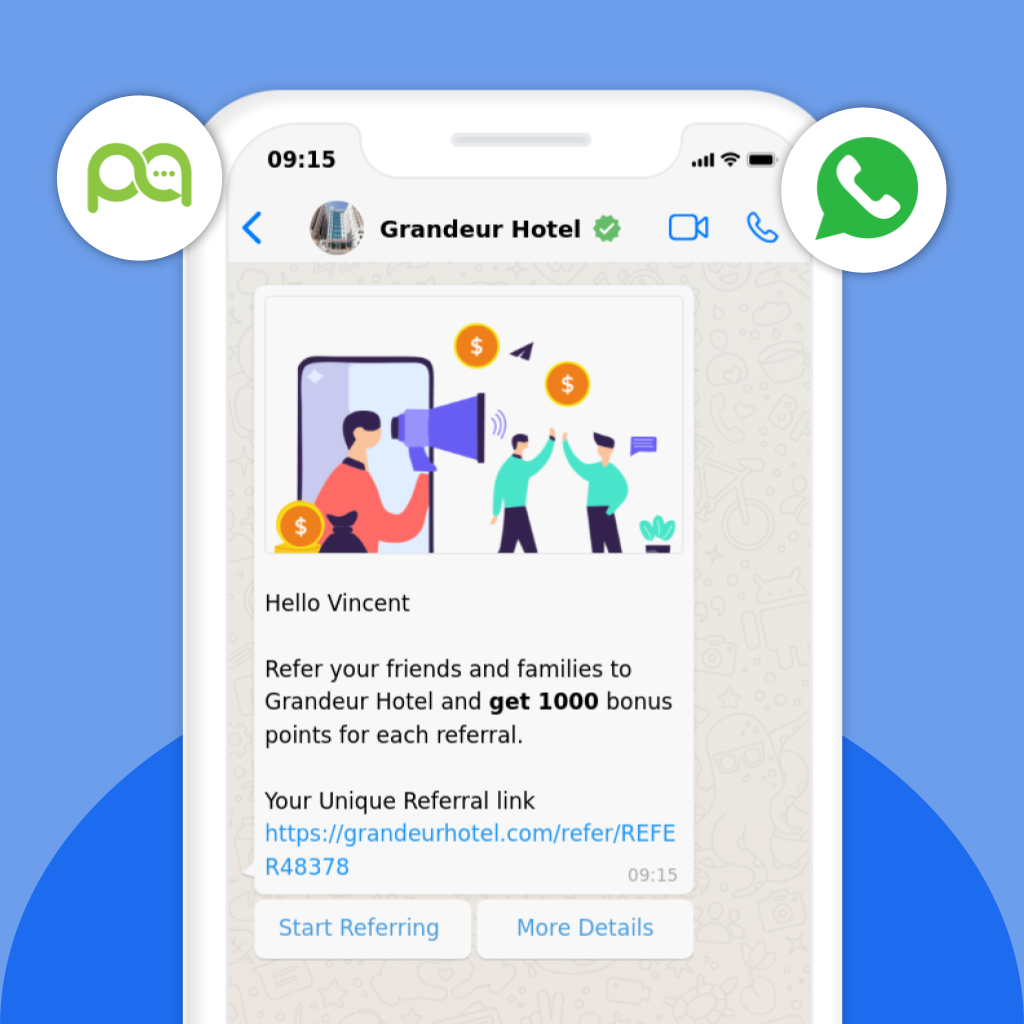 A Quick Overview of WhatsApp Chatbot Automation for Hotels
Pre-Stay
Picky Assist's AI-powered chatbot can manage various tasks before your guest's arrival:
Responding to customer queries efficiently.
Assisting guests in finding local attractions around your property.
Sending guests directions to your property.
Processing room booking requests seamlessly.
Facilitating payment collection or booking amount.
Accommodating special requests or arrangements prior to the guest's arrival.
Sending promotional materials, including images and videos.
Providing automated follow-ups and reminders for a smoother guest experience.
During the Stay
Once the guest checks in, Picky Assist WhatsApp Chatbots ensures they have a comfortable stay by enabling them to:
Order from the hotel restaurant easily.
Request laundry collection from their room.
Ask for room cleaning services as per their convenience.
Request the Wi-Fi password or any other necessary details.
Set a wake-up call as per their schedule.
Request water or beverages without any hassle.
Ask for a city map or other guidance about local attractions.
Post-Stay
Even after the guest checks out, Picky Assist WhatsApp Chatbots helps in providing an end-to-end service:
Sending all invoices and bills directly to the guest.
Providing a payment link to facilitate easy payment of any outstanding amounts.
Collecting feedback in a fun and interactive manner, such as through a small game or quiz.
Sending personalized greetings on special occasions like birthdays and anniversaries.
Outcomes and Benefits
Improved Response Time: The AI chatbot's ability to respond instantly led to a 100% boost in the hotel's first response time.
Increase in Sales: Thanks to the chatbot's effective engagement and ability to upsell and cross-sell services, Grandeur Hotel witnessed a 25% rise in sales.
Enhanced Customer Satisfaction: With swift and precise responses to inquiries and requests, there was a 30% improvement in overall customer satisfaction.
Reduced Operational Costs: By offloading routine inquiries and tasks to the chatbot, the hotel managed to save 34% in operational costs year-on-year.
The implementation of our AI chatbot has significantly transformed Grandeur Hotel's customer service experience. They've achieved greater efficiency, increased profitability, and more satisfied customers — a true testament to the power of AI in modern business operations.
Frequently Asked Questions for WhatsApp Chatbot in Hotel
How can the WhatsApp Chatbot assist with room bookings and reservations in my hotel?
The WhatsApp Chatbot can manage room bookings and reservations 24/7, allowing customers to book rooms directly through their WhatsApp. It provides real-time availability and pricing information, enhancing the convenience for guests.
Can the WhatsApp Chatbot handle queries about hotel amenities and services?
Absolutely, the WhatsApp Chatbot can be programmed to answer a wide range of FAQs, including details about hotel amenities, services, restaurant hours, and more. It enables guests to get their questions answered directly via WhatsApp, a platform they frequently use.
Can the WhatsApp Chatbot help improve our hotel's sales?
Yes, the WhatsApp Chatbot can recommend additional services like spa appointments, dining reservations, or sightseeing packages to customers via their WhatsApp. It supports up-selling and cross-selling, leading to an increase in sales.
Does the WhatsApp Chatbot have the capability to handle room service orders?
Yes, guests can make room service orders directly via the WhatsApp Chatbot. It streamlines the process, making it efficient and quick, and allowing guests to order room service in a comfortable and familiar way.
How can the WhatsApp Chatbot contribute to customer satisfaction?
The WhatsApp Chatbot can provide swift and accurate responses to customer queries, manage bookings efficiently, and offer instant solutions, all through WhatsApp. This seamless interaction contributes to overall customer satisfaction by providing superior service on a platform that guests are already using daily.
How can the WhatsApp Chatbot assist in reducing operational costs in my hotel?
The WhatsApp Chatbot automates many routine tasks such as handling inquiries, managing reservations, and taking room service orders. This reduces the load on your customer service team and decreases the need for additional staff, leading to significant savings in operational costs.
Can the WhatsApp Chatbot be used to collect feedback and handle complaints?
Absolutely, the WhatsApp Chatbot can be programmed to take complaints and feedback from guests. This ensures every grievance is heard and every feedback is acknowledged instantly, contributing to a better customer experience.
Can the WhatsApp Chatbot engage customers after their stay?
Yes, the WhatsApp Chatbot can follow up with guests after their stay, seeking reviews and ratings. This interaction can enhance customer relationships and offer insights into areas for improvement.
Does the WhatsApp Chatbot support multiple languages?
Yes, the WhatsApp Chatbot can be programmed to communicate in multiple languages, making it ideal for hotels that serve international guests. This feature allows your hotel to provide personalized service to a broader customer base.
How does the WhatsApp Chatbot improve the hotel's first response time?
Since the WhatsApp Chatbot operates 24/7 and responds instantly, it greatly improves the hotel's first response time. Guests receive immediate responses to their inquiries or bookings, enhancing their overall experience.
Can WhatsApp Chatbots be integrated with the existing HMS (Hotel Management System) and HRMS (Hotel Reservation Management System)?
Yes, Picky Assist provides a wide range of easy-to-use integration tools like No Code Connector, API, and Webhook to seamlessly and securely integrate WhatsApp Chatbots into any HMS & HRMS systems.