Sonalika, a leading tractor company with a presence in more than 130+ countries, caters to the global demands of Agri mechanisation through its World No.1 Integrated Tractor Manufacturing Plant. 
Sonalika heavy-duty products have enabled the brand to stand firm as a No.1 exports brand from India while winning the hearts of over 1 million farmers globally.
Marketing process
Sonalika spends a lumpsum amount on marketing and the major lead generation done through digital marketing (website, Facebook, Instagram), this generated huge traffic/enquiries on their website and Facebook page. Thus, they were struggling to find seamless ways to connect with the audience and re-target them in a more productive manner.
Our solution team had different conversations with them to understand the process and the pain points, then suggested various solutions using Picky Assist's features and products to route the traffic and re-target them more effectively to get the most out of their campaigns. 
Let us understand how Picky Assist communication automation features helped Sonalika to achieve a better result.
Connects Facebook Ads with WhatsApp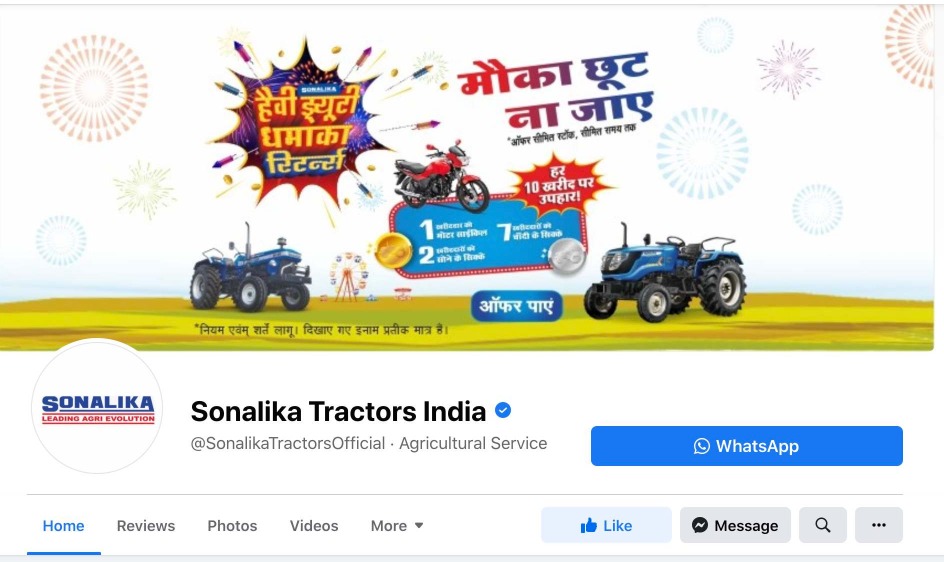 As one of the major lead generations was happening through Facebook Lead form, we connected their advertisements with our Facebook lead form Add-on.
When their customers fill the lead form and submit it, our Facebook lead form add-on sends an instant WhatsApp message, as per Sonalika's requirement.  The instant recognition of the customers' interest delights them and opens a more convenient WhatsApp channel to communicate further with Sonalika. Their messages got responded back by WhatsApp chatbot and human agents gets assigned automatically as per the settings.
A Tool Which connects WhatsApp into 3000+ App without Coding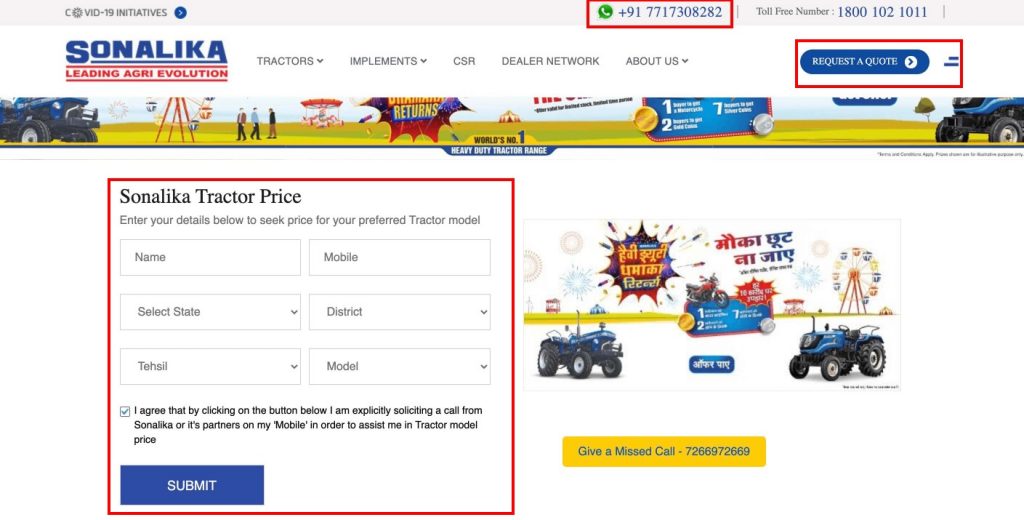 Sonalika connected their landing page and sign up form with WhatsApp using the Picky Assist's Connector feature. As soon as the user fills the form on Sonalika's website, the user receives a WhatsApp message as an acknowledgement. They could also customize the messages according to state/region, tractor model, etc., (the data customer given in the form) using the filters available on the connector. This helped them to provide more relevant information without any additional human intervention.
The delay feature of Connector helps them to re-target the customers with a sequence of messages that trigger automatically at the desired date and time set by Sonalika's team.
24 x 7 Virtual Assistant to Assist Customers through WhatsApp, Facebook Messenger & Web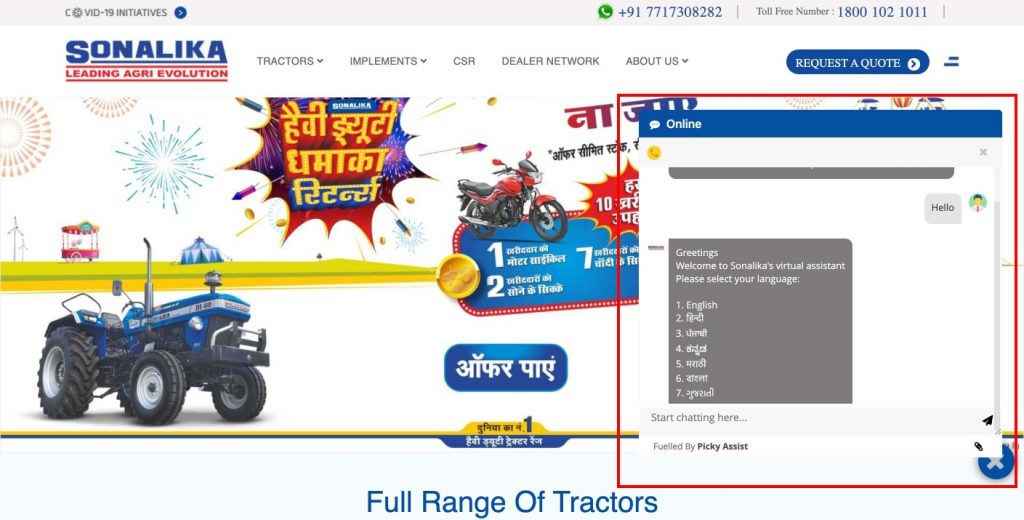 If the customers require more information about products/ need information related to service/other general queries, they start to reach Sonalika through Whatsapp and the number of enquiries goes higher day by day. However, our Smart Replies (Whatsapp Chatbot) feature helps them to give such information automatically and instantly without any additional manpower. 
The WhatsApp chatbot can address the customer queries such as
A. New Tractor Enquiry
B. Nearest Dealer locator
C. Agri Implements
D. Want a Sonalika Dealership
E. Spare Parts Enquiry
F. Request for Services
G. Complaints
Result
Whatsapp Chatbot helps the customers to avail themselves of the required information at their fingertips even after office hours.  That helped Sonalika to provide a seamless customer experience while reducing the cost of the human resources that were required to handle the customer queries in the old days. 
We could be able to provide better insights on the customer enquires and using various features like Whatsapp Drip Campaigns, broadcaster they engaged more customers to nurture the leads automatically.
Integration with Connector & Facebook Ads helps to establish instant communication with customers which avoids the waiting time to initiate a conversation, the moment customer fills the form in the website or clicks a faecbook ad they instantly get engaged via WhatsApp