Seeing one of our short video, an HR recruitment company having 30 employees based in India focusing on hiring for software jobs (NDA don't allow sharing client name) CEO connected me through Linkedin and shared their painful process as below;
Painful Process 🥲
CVs are coming from various sources like Naukri, Monster, Indeed, LinkedIn, Career Page, WhatsApp & References but their existing HRM is not able to get them centralized into one place.
They have to manually upload the CVs and manage the candidates by uploading the details to their existing HRM which is a tedious and time-consuming process.
Each team member needs to work independently with different career portals to fill a position that needs a large effort and requires time for sorting, copying, and pasting data into HRM.
Existing HRMs don't have WhatsApp integration so hiring executives use their own WhatsApp number to connect with potential candidates and the company doesn't have any visibility or control over the conversations between candidates and HR recruiters.
They also observed that contacting candidates via WhatsApp is more responsive than calls or email as they can reply at their convenient time even if at the office or work without taking the calls
Matching skill sets with the provided JD is a tedious task as each of the recruiter executives needs to manually assess the CVs which is time-consuming
Qualified candidate CV's along with summaries used to shared manually by each executive with the employers which are again needed a large effort like drafting emails, attaching CVs, entering email addresses, subjects, etc
Want to make use of ChatGPT or similar technologies to analyze, match skills, etc to process applications more effectively and automate.
Solution by Picky Assist ✅
Being a communication automation company we took this as a challenge to address the painful process of this HR recruitment company and developed a few technologies to support similar use cases, read how we have solved the painful process and automated the entire hiring process 👇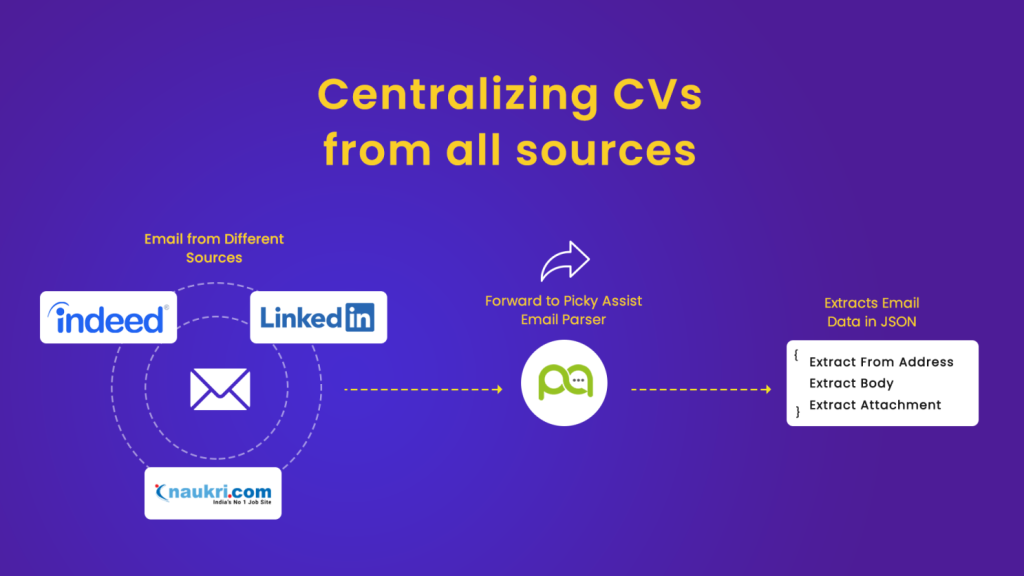 Centralizing CVs from all sources
The very first problem to solve for us is to centralize all CV's coming from various sources as email, so we have created a new feature called "Email Parser" and given a unique email address to forward all emails to our platform, once we receive the email our system automatically extracts from address, subject, body, attachment in a structured way (JSON) which can be used further for any automation
---
PDF to Text Conversation & ChatGPT Integration
Then our next focus is to automate the process of analyzing CVs through ChatGPT AI, then we realized that 99% of the CVs are in PDF format and ChatGPT doesn't support PDFs as input so we have developed a new feature "PDF To Text" converter which helps to convert the PDF to a Text and pass the CV to ChatGPT API for performing the following task 👇
Extract Name, Mobile Number & Email
Summarise the CV
Match the skillset with the JD
Generate interview questions to be asked as per the given JD & Candidate's CV
So now we have the output for each API response from ChatGPT but in order to use this further we need to save this data somewhere, so we have used the Picky Assist CRM custom attribute along with event feeds in the Picky Assist Teambox,
At this point, we have faced another challenge of extracting name, email and phone number from the ChatGPT output in a structured way which can be used further in our platform to create contact and assign the conversation to a HR recruiter, so to overcome this challenge we have developed a new feature called "JSON Extractor" and we have instructed ChatGPT to generate a JSON Object of the contact details which helps us to get extract the JSON output and further able to map into the connector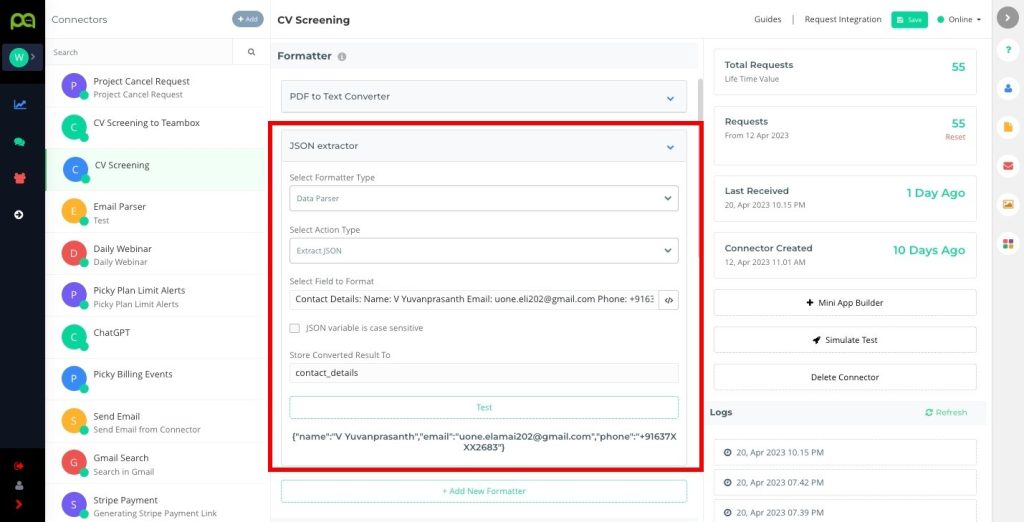 So now whenever a new CV is received via email, we will process this through ChatGPT API then creates a contact in the Picky Assist CRM then save the PDF CV as well, a Summary of the CV, the result of the Skills which matched, and sends an automatic WhatsApp & Email to the candidate informing that we have received their CV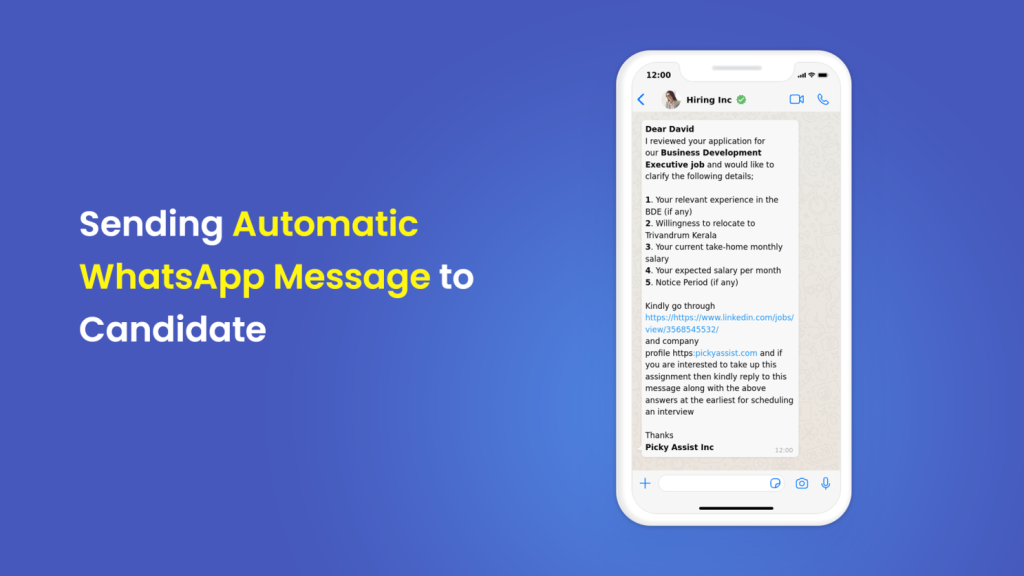 ---
Sending Automatic WhatsApp messages to the Candidate
After extracting the required details we will send a WhatsApp message automatically to the candidate asking for more details and then assign the chat to an HR recruiter for further communications
---
Bringing Human Into the Conversation
Now we have all the required data that is ready without any human interventions, its time to bring a human into the conversation, and for that, we have used the Picky Assist Teambox Assign Chat feature which automatically assigns the conversation to an HR recruiter
As soon the system assigns the conversation to an HR recruiter they will get a notification in their Picky Assist Teambox account and when they open the conversation, they can see the following details
Name, Mobile Number & Email
Summary of the CV
Match Skill Report
Interview Questions to be asked as per the given JD & Candidate's CV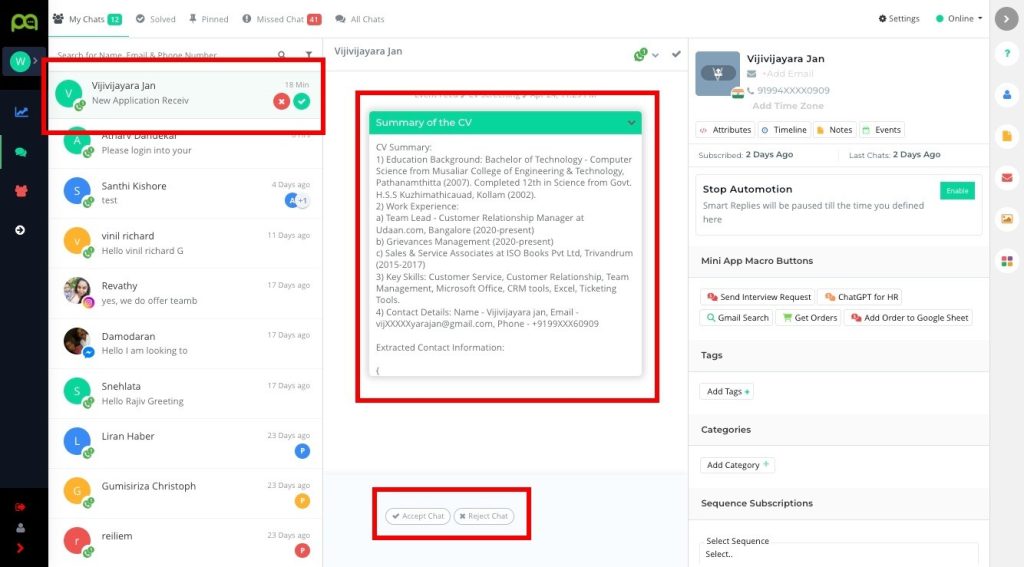 ---
Automating the Interview Process
HR recruiter is now fully armed, and now its time to schedule a direct interview, so we have used the Mini App Macro button to automate this process, we have defined a WhatsApp & Email template for this process "Send Interview Request" and the moment HR recruiter clicks this button the system automatically send a predefined personalized WhatsApp Message & Email to the candidate, then added a tag "Interview Scheduled" no more switching apps, no more typing just one click that's it.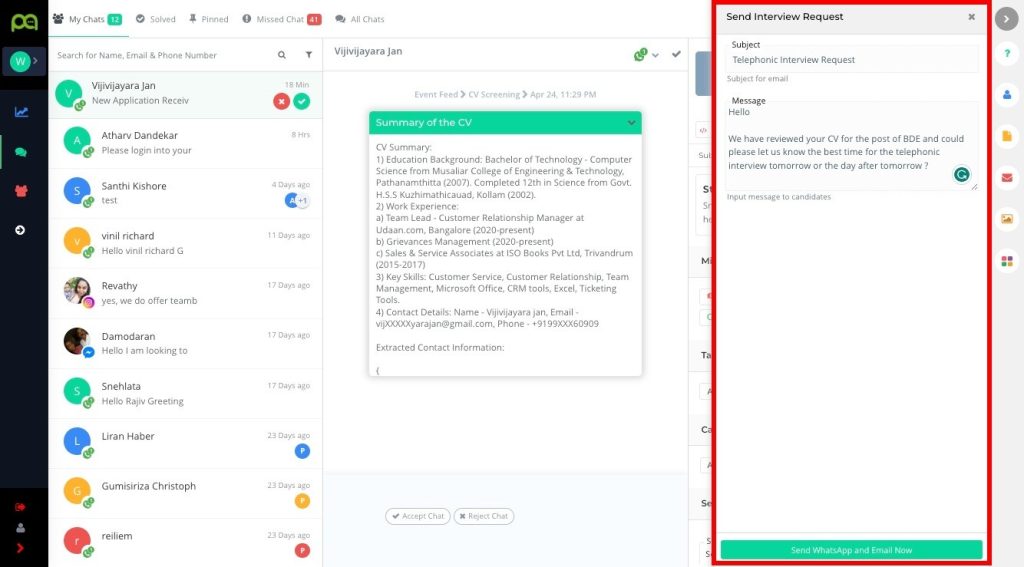 Now when the candidate responds via WhatsApp the respective HR recruiter will be notified in the Teambox and able to continue the conversation till the hiring process is completed and able to add internal notes or whisper in the Teambox itself to keep track of the process
---
Sending CV & Summary to the Employer
The recruitment company has invited the employer HR to Picky Assist for easy team collaboration with the candidate.
Now no need to send any chained emails, recruiter, HR & candidates are in a single unified WhatsApp conversation.
We found that few employers still prefer email so we have created another mini app for HR Recruiters to send the CV and summary via email to the respective employer in just a click, just select the employer and click Send CV and the system will automatically send the CV along with all the summary to the employer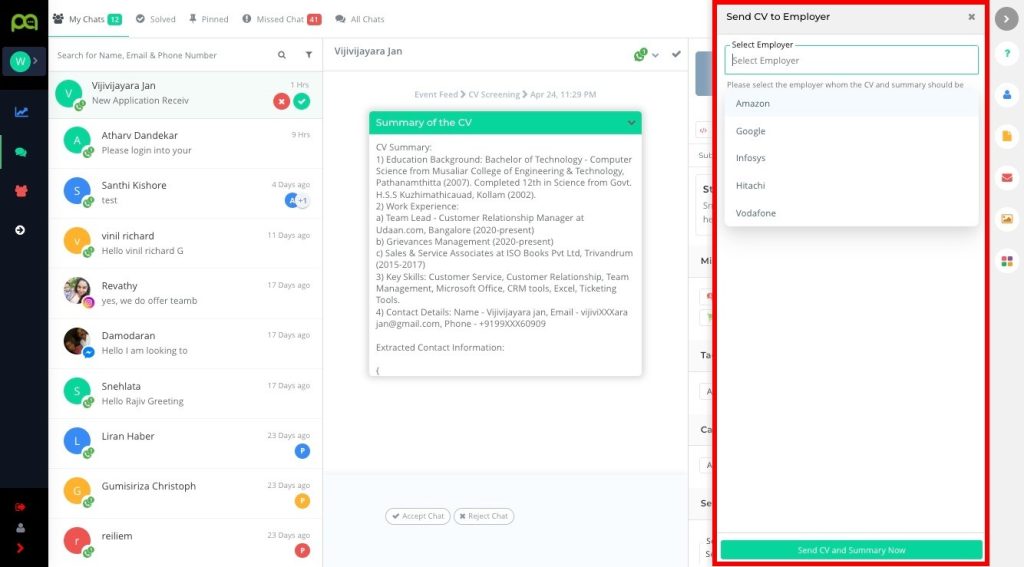 ---
Go LIVE In just 2 hours
The entire above setup takes less than 2 hours to GO LIVE, so if you are looking for a similar or even custom solution then please keep in touch with us via email [email protected] and we are happy to assist you to automate your business in the best possible way. For similar automation ideas join our Facebook community today