Manage Contacts Effectively with our
Inbuilt

Free WhatsApp CRM



The all in one complete automated WhatsApp CRM
It's super easy to manage and edit your contacts with our excel like on-screen editor which can edit any contacts with just a click.
Create as many as filter conditions
Excel like editor for quick editing
Edit 10X faster to save your time
Easily segment contacts with tags and categories which helps you to send a personalized broadcast message or start campaigns based on tags and categories values.
Segment
Contact with

Tags & Categories
Automatic Add / Remove Tags
Filter contact based on tags & categories
Integrates with Broadcaster & Connector
Easily make changes to contacts automatically based on any
events that happen in the 3rd party platform
Automatically send WhatsApp
to a segment of contacts
Create different filter views and switch between them to easily see the contacts with different conditions
Save Filter for easy reuse
Create filter for custom fields also
Integrate
any App Inside CRM
Build and integrate any app you use right inside your Picky Assist CRM without any coding for contextual information to your agents while they are assisting customers, no more app or window switching. Macro button allows you to take a group of actions together in just one click like sending a proposal, adding a tag, segment into a category, adding into a drip campaign all in just one click
Integrates with any app having API's
Save your agent time and increase efficiency
Save cost buying more user accounts from other softwares you use
Deep linking to WhatsApp, Google, Linkedin, Truecaller or any other app supports deep linking
Easily create new custom fields to customize the CRM the way your business requires. Store any additional information like gender, age, address, files, date of birth, etc
Support Saving Media Files
Filter from Custom Fields
True
Multi Tasking
Capabilities
A globally accessible menu gives you true multitasking capabilities,
avoiding switching between pages and apps.
Create a record from any pages
360 degree view in just one click
Open the conversation with just a click
Send emails, make calls in just clicks
Automatically send WhatsApp
to a segment of contacts
The comprehensive hassle free opt out management for your business,
create as many as opt out list and give an option for the customers to
opt out from one or many lists, perfectly works for WhatsApp, Facebook
Messenger, Instagram & Email channels
Keyword based opt out for messaging channel
Link based opt out for email channel
3rd party app event based opt out
Integrates easily with your own app
The most advanced and flexible recurring scheduler allows you to schedule sending a WhatsApp message or execute a group of action in any combination of intervals as below;
Send sales figure to CEO at daily 8 pm except weekends
Daily 10 am fetch new post from a wordpress blog and send to a segmented audience
Sync data in every 2 hours from 3rd party app to Picky Assist
Send meeting reminder to remote sales team on every friday at 3 pm except 3rd week
Send reminder to server admin to backup data on every 2nd saturday at 11 am
Send birthday or anniversary greeting at 12:01 am on birthday
Send currency, gold or commodity pricing to a large audience at 9 am daily except Sunday
Send EMI reminder on 3rd, 5th, 10th and 25th of every month at 11.30 am
Send a month end offer to customers on every last day of the month at 10 am
Create different roles like Manager, Executive, Sales with 20+ privileges to restrict or allow access of the contact module
Partial data masking for enhanced security
20+ privileges ensure more flexibility
Contact owner & custom chat routing
Our 2 way deep linking features enables you to link Picky Assist and
3rd party platforms seamlessly without any coding. It's powered by
deep linking URs and buttons
Start a conversion from 3rd party app
Open a conversion in Teambox
Open contact from any 3rd party app
Live Event Feeds
from any App
Get event feeds from any app you are using even from your custom
app which gives you a fully contextual view of the events happens on a
contact , view and track all the events inside the CRM
Integrates with any platform
The Best in Class Programmable
Reminder
Never Miss any meetings, followups or to do tasks with the industry's best-in-class
programmable reminders for you and the entire team
Start a conversion from 3rd party app
Fully Programmable with no Coding
Sound, Browser Notification &
Mobile App Notifications
Voice note to avoid typing
Natural Language Powered Date & Time Input
Ask notes before making a reminder as Complete
Advanced Automation with Connector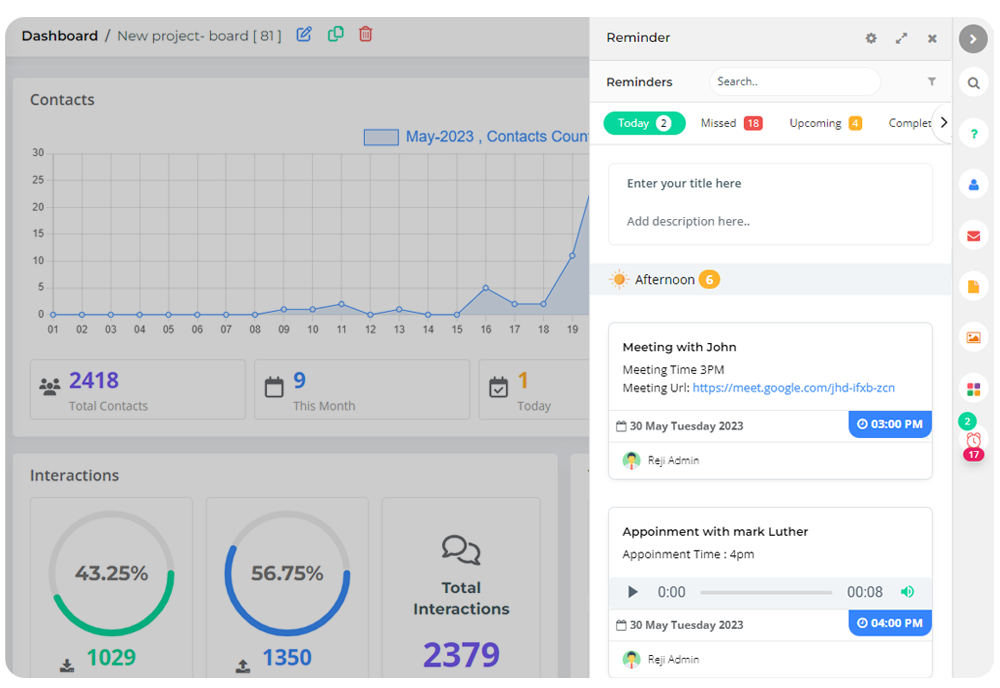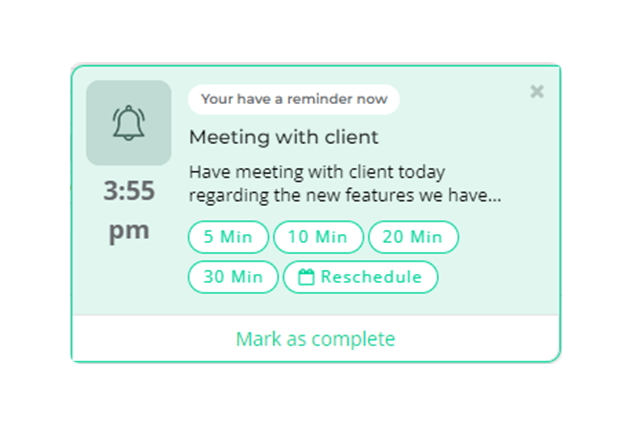 Easily create a contact from any 3rd party app using Picky Assist
Connector without any manual input, when a new record is
created in your Google Sheet add it as a new contact in Picky Assist
Create Contact

from any Apps
Automate contact creation
Integrates with 3000+ apps
Keep the data synced in all platforms you use
Add Contact
from any
Webpages
Adding contacts made extremely easy with our google chrome
extension, wherever you see a mobile number or email address just
select and right-click to add this to your contacts list
A perfect tool for lead generation
Sometimes you need to take quick notes about a customer's problems
and include screenshots etc , using the note feature your team can
take quick notes including media and add map against each contact
Import data from any 3rd party CRM's or excel sheet with our easy to Use guided bulk import features, Export the data only you need with our filters and save the filter condition to resume which saves your time each and every time.
Import from CSV, excel sheet
One Click Contact Sync
from WhatsApp
One-click sync of all your WhatsApp contacts into the Picky Assist Mini CRM to continue the conversation easily
Sync messages from WhatsApp
Sync WhatsApp Contacts to Picky Assist CRM