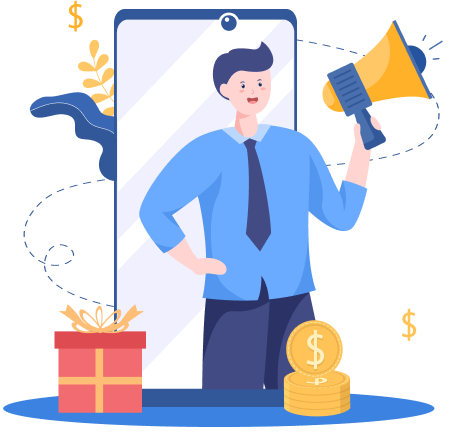 Help customers to automate their business communication &
earn

30%

recurring revenue
from each customer you refer to Picky Assist Anyone can earn
money from
anywhere
Resellers
Distributors
Consultants
Resellers
Influencers
Vloggers
Automation Experts
Youtubers
Students
Personal Coaches
Founders
Anyone
Content Creators
IT Managers
Bloggers
Picky Assist


Affiliate
Program
Advantages
Anyone can join from any countries
No higher capping on commission
Recurring Earning


Calculator

Your income don't stop even you stop referring new clients with our recurring commission model,
calculate and find how much you can earn in a year
new customers every Month
Calculated based on average revenue per user per month as $49
How it Works?
One of the easiest way to earn consistent revenue by just spreading how Picky Assist
can help business to automate their business communications
Become

Picky Assist


Affiliate
Share

your unique
affiliate
Tips to earn more &

consistent revenue
Frequently
Asked Questions
What is an Affiliate program?
The affiliate program is a referral program where anyone can recommend Picky Assist services to any needy customers across the world and earn up to 30% recurring commission for 24 months from each referral.
What are the eligibilities to become a Picky Assist Affiliate?
There is no specific eligibility, anyone can join the affiliate program from anywhere in the world except Picky Assist employees, their family and friends.
Can I send emails from my own email address?
Affiliate program is a referral program where anyone can recommend Picky Assist services to any needy customers across the world and earn upto 30% recurring commission
What does 90 days of cookie validity means?
When someone clicks on your unique referral link our system will store small piece of information in their computer which helps us to track source of the referral so that you will be attributed for any activities upto 90 days
Where can I get my unique referral link?
Please signup for a free affiliate account and navigate to your dashboard from where you can get your unique referral link.
You will get paid monthly, minimum accumulated earnings should be $50 or above to withdraw funds.
Do you make wire transfers directly to bank accounts?
At this moment we don't offer wire transfers to bank accounts.
What will happen if a referral cancels their subscriptions?
You will not be paid for that customer further however if the customer reactivates their service within 3 months then you will continue getting commission from the data of reactivation
What does recurring commission mean?
Unlike other referral/affiliate programs that provide only a one-time referral commission, Picky Assist provides recurring commissions of 30% from each sale up to 24 months from the date of the first purchase of your referral customer.
How many customer's minimum i need to refer to get commission?
To qualify for commission as an affiliate, you are required to refer a minimum of three paid customers. This rule has been implemented to prevent individuals from signing up as affiliates and then creating paid customers for themselves. In other words, the intention is to ensure that the referred customers are genuine and not artificially generated by the affiliates themselves.
Are there any charges or fees to join the affiliate program?
No, there are no charges to join the affiliate program
Do you share any customer information with me to track my referrals?
Yes, we provide only the first name with you to track your referral however we will not share any contact or personal information with you.
If I orally recommended someone and they become a paid customer of Picky Assist, how will this activity be attributed to me?
There is no way to track this activity as we can track referrals only if they have clicked through your unique referral link so we recommend you always provide your referral with your unique referral link so that we can track them correctly.
How will you transfer the commission?
We will transfer the commission via PayPal and PayPal further settle this to your bank account or credit card linked with the PayPal
Are there any products or services which are exempted from affiliate commission?
Yes, the following products or services are exempted from the affiliate commission
1 : WhatsApp Official Template Charges
2 : Bundled Package Charges
3 : Adon Charges
4 : The amount added into customer Wallet
5 : Any custom services are given to the customer
That is you will be paid commission only for the fixed monthly/yearly renewals of their base plan
What will happen if referral downgrades or upgrades their subscriptions?
Your commission payout will vary accordingly, in simple we will pay you 30% of the base plan rent i.e. $49 you will receive $14.7 commission monthly or for $499 yearly plan you will receive $149.7 as your commission.