Your Team & Customer's United
Communicate Smartly with Customer's on WhatsApp & Facebook Messenger with a Unified Inbox for your entire team. Introducing Teambox by Picky Assist
Teambox will be available only for selected customers in beta mode for few months or till we conducted all the quality test before the mass release, if you want to be part of the beta testing then please fill the below form as the beta platform will be ready by end of March 2021 with the below mentioned features.
Perfectly Blended
We know how important a conversation matters to a business. Teambox is blended in 2021 after doing extensive research in the market that offers similar products and services in order to ensure that we don't miss any of those features and fills the gaps in the market for the business who want to go the extra mile and achieve best conversation experience with Customers

The Ergonomically Designed All New UI
We have invested a considerable amount of time and effort in designing the all-new user interface as we know that agents used to spend quite a lot of time with it.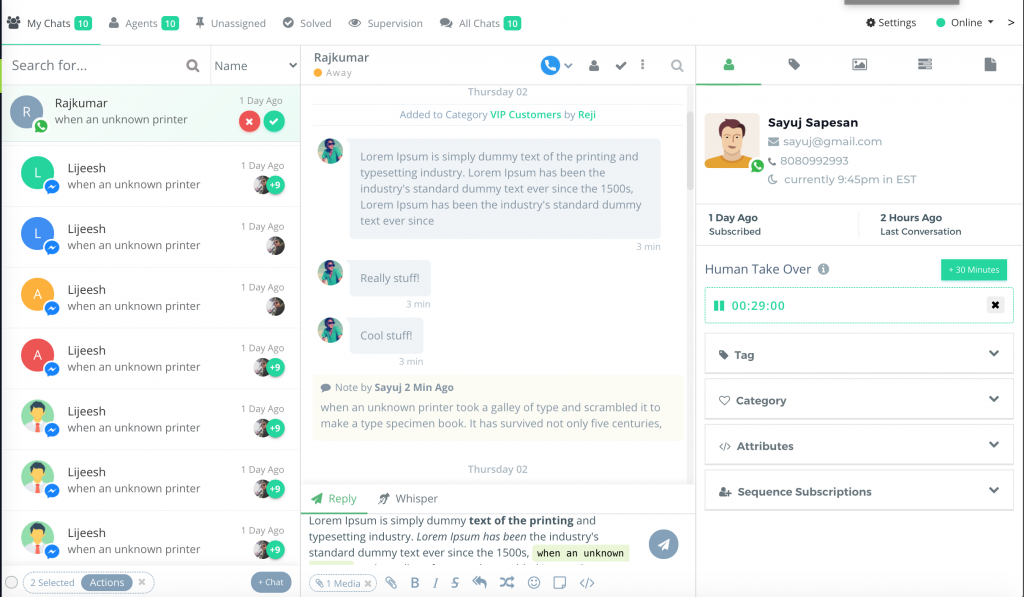 Ergonomically Designed
It's ergonomically designed to give less strain to the agents, like the most used conversation window is rightly aligned as per the human eye vision angels for effortlessly reading it
Eye Shields
We have avoided using blue color to minimise the impact on the eyes when working for a long time. (Dark Mode Coming Soon)
Keyboard Shortcuts
To get started we have integrated few keyboard shortcuts to minimise the usage of the mouse, but we are in the process to integrate more keyboard shortcuts to minimise the agent workload like accepting the chat, switching between different contacts / tab etc will be made available as keyboard shortcuts very soon.
Bring Your Team
Bring all your team members into a single unified platform to manage the customer queries received in WhatsApp & Facebook Messenger, (More Channels comming soon)
Create Departments to make the team organised and route specific chat to a department based on the message context or user attribute values like user asking for a sales queries of a particular product route to the right department
Intelligent Routing Rules
One of the unique features we have covered is the ability to route the chats to the right team or agent as per each business requirements which ensure your customers are getting the best support each and every time.

Contextual Based Routing
This is the routing works with our Smart Replies powered by AI, based on the user conversation you can route the chat to a specific department or assign an agent who is expert in the topic for example if a user asks "I want to renew my car insurance" then let's assign the chat to a department who deals with Car Insurance similarly a chat can be assigned to an individual agent who is specialized in certain skills like language, technical skill etc.

Broadcaster
Broadcaster allows businesses to notify all the team members in a department/organisation when a new chat comes, when any of the agents attend the chat the notification will be dismissed. Something similar to parallel ringing in your traditional office PBX system.

Round Robin
Most loved features for business to keep all the agents engaged , round robin routes the incoming chats to the agents one after another which ensures chats are getting distributed equally among the team. Our auto reassign mechanism ensures that if an agent is not attended the chat within the time specified by you then we automatically route to the next available agent to ensure that no chats are missed.

Manually Assign
This is something like a telephone operator who attends the call then enquires about the query and routes the call manually to the right person, when manual assign routing rule is enabled all chats will be assigned to a single agent and further can be transferred to a team or an agent.

Route to Last Assisted Agent
This is one of the great feature to save time of your agents and customers as the last assisted agent is aware about the context of the conversation and able to extend help in much easier way than a new agent, so when this is enabled the chat will be allocated to the last assisted agent if available else it will fall back to the default routing rule. 
Topic Management
When it comes to Social Messaging, managing the topic of the conversation is a bit complicated in the email and webchat it can be easily managed with a Subject Line, we have solved this issue with a topic management system i.e agent can add a topic to an open chat conversation before they marking it as Solved so all the messages in a topic will be grouped and available later for quick references making a great way to track the conversation in few clicks. 

Beyond Shared Inbox
A Shared Inbox view is good but sometimes businesses want to share only certain conversations or customers with a certain group of team, Teambox is built keeping this in mind which enables administrators to set what chats to be assigned to the which teams which ensure more data privacy at the same time offers a clutter-free experience for you teams as they gets only the most relevant chats to them.
Agent Collisions
When the shared inbox is enabled there will be a situation that multiple agents can attend and reply to a chat , in order to avoid this we have added an agent collision warning if another agent is going to reply the chat.

Team Collaboration
Solve customer's problems faster than ever with team collaboration, invite other team members into a chat and let all team members see the conversation and reply accordingly, each team member's reply will be tracked.

Whisper
Whisper or internal comments a feature that helps to take a quick note while a chat conversation is in progress, this feature can be used in many ways like adding an internal note within the conversation for more contextual reference, another agent can train a new agent by giving instructions what to reply.

Quick Replies
Quick Replies are also known as Cannoned Response, templates etc but Teambox Quick Reply is not going to be the conventional one which you have known or used till now, we have gone an extra mile to add media file support along with quick replies so next time customer asks for latest offers, price list, quotation, product video etc don't go and mess with your entire computer just a click and customers gets the relevant file – All hassle free right ?
Birds Eye View
No more app or page switching, get all the relevant information about a customer within the Teambox, see the tags, categories, sequences which are they in, attribute values saved like address, age, dob, current time in customer country etc.

Away & Offline Message
Admin can set "Away" message if no agent is accepted the agent within the time specified by the admin or if all agents are "offline" then instantly the offline message will be sent to the user and chat marked as Missed and available to agent
Sound & Notification
Never miss any chats or messages when you are away from the Picky Assist Window, we will notify you of all new incoming chats and messages with a browser notification followed by a sound
Teambox will be available only for selected customers in beta mode for few months or till we conducted all the quality test before then mass release, if you want to be part of the beta testing the please fill the below form as the beta platform will be ready by end of March 2021 with the above mentioned features.