We are now occupied with a very basic live chat system for WhatsApp , SMS & Facebook Messenger.
We are glad to inform you that we have started building an advanced multi-agent live chat system with the below features to make your business communication more effortlessly with Picky Assist.
Multi Agents
Businesses can create multiple agents to handle users quires more effectively with the ability to assign chat manually or automatically to agents based on conditions.
Departments / Groups
Create different department to organize the agents , route specific chat only to certain departments
Access Control
Create different roles and privileges for better access control which ensures who can access what. Just create roles like "Managers, Admin, Reports etc" and apply to agents
Chat Routing Rules
Chat routing rules helps businesses to route the chat to the right agent and balance the load, we have following routing rules
Broadcaster : If the chatting rule is set to broadcaster then all users will get the new chat notification and chat will be assigned to the agent those who accepted the chat first.
Round Robin : In this method, the system will allocate the chat automatically to the available agents one by one which ensures the incoming chats are distributed equally to all the available agents
Route to Last Assigned Agent : If this method is enabled then the system will automatically route the chat to the last assigned agent to maintain the context of the conversation so that the end user don't need to explain the entire story again , it also called as "Sticky Agent" like dedicated account managers.
Away & Offline Messages
Admin can set "Away" message if no agent is accepted the agent within the time specified by the admin or if all agents are "offline" then instantly the offline message can be sent to the user and create a "Smart Action" to perform actions like "Send Email , Ad Tag, Send WhatsApp" etc so that the agent can take agent when they become online.
Seamless Integration with Smart Replies
This is one of the very useful feature which allows the business to route chat based on the incoming message like if the user sends a message "Please Connect to Sales" then route the chat only to the Sales Department. Smart Actions can be created for any Smart Replies.
Smart Replies as Quick Replies
Agents can use the smart replies as quick replies to save time, just type / and insert the quick replies into the conversation , supports media files and Whatsapp templates as well.
Whisper / Notes
Take a quick note or whisper when the agent is assisting users, a great tool to take notes, or give instructions for new agents.
Supervision
Monitor a chat for training agents or ensuring the quality of the chat
The All New Agent Dashboard
The all new branded agent dashboard organize the chats better than the previous version and loaded with many new features.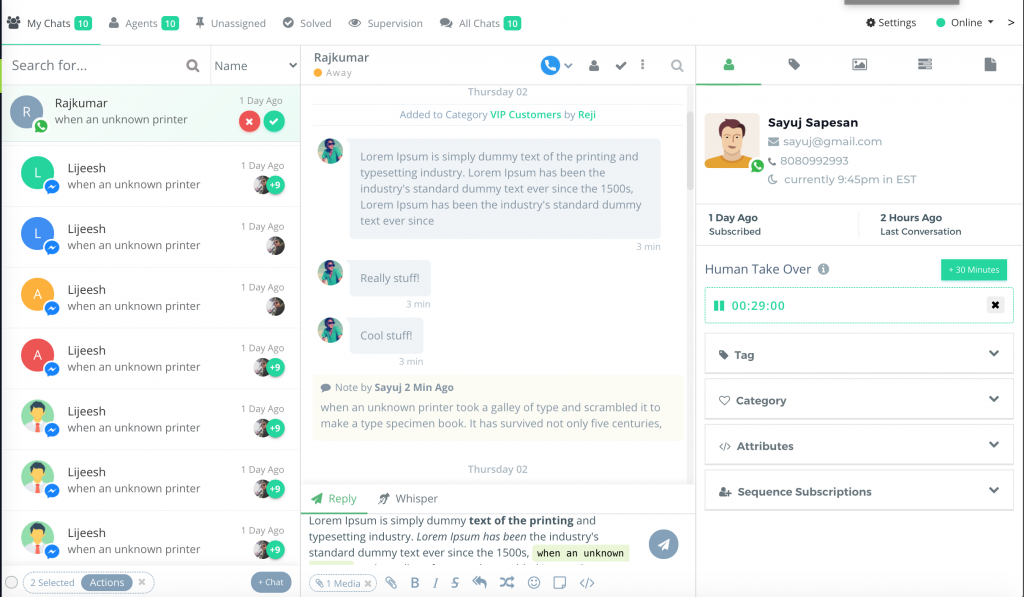 Launching on this March 2021