WhatsApp Official Solution have Number Quality Rating & Mandatory Warmup Process (Messaging Limits)
Quality Rating
The quality rating shows how messages have been received by your customers in a rolling window of the past 24 hours. WhatsApp shows it in three different states:
High (green)
Medium (yellow)
Low (red)
Occasionally, a phone number may show one of two particular statuses that are related to quality and messaging limits: Flagged and Restricted.
Flagged: This is a warned state. When the quality rating reaches a low (red) state, the phone number is moved to a Flagged status.

If the quality rating improves to a high (green) or medium (yellow) state over 7 days, the phone number will return to a Connected status.
If the quality rating does not improve within 7 days, the number will still return to a Connected status but with a lower messaging limit imposed on it.

Restricted: Phone numbers that reach their messaging limit are moved to a Restricted state. During a Restricted state, the number will be unable to send any notification messages until the 24-hour window for sending messages is reset. They can still respond to any messages initiated by users.
Messaging Limits
Messaging limits determine how many unique users your business can send messages to on a daily basis. This includes new conversations as well as existing conversations with users. The messaging limit does NOT limit the number of messages your business can send, just the number of users you are trying to message. It also does NOT apply to messages sent in response to a user-initiated message within a 24-hour period.
Tier 1 : Allows your business to send messages to 1000 unique customers in a rolling 24-hour period.
Tier 2 : Allows your business to send messages to 10000 unique customers in a rolling 24-hour period.
Tier 3 : Allows your business to send messages to 100000 unique customers in a rolling 24-hour period.
Note: A business starts in Tier 1 when it registers its phone number.
A business's phone number will be upgraded to the next tier if:
Its quality rating is not low, and
The cumulative amount of users it sends notifications to adds up to twice its current messaging limit within a 7-day period.
Once the business reaches this threshold, it will be moved to the next tier. The minimum amount of time that this upgrade can occur is after 48 hours, when the business is sending messages up to their current limit every day.
See the charts below for examples of how a business might move to the next tier:
Example 1: A business is upgraded from Tier 1 to Tier 2 when it messages a total of 2,000 users within a 7-day period.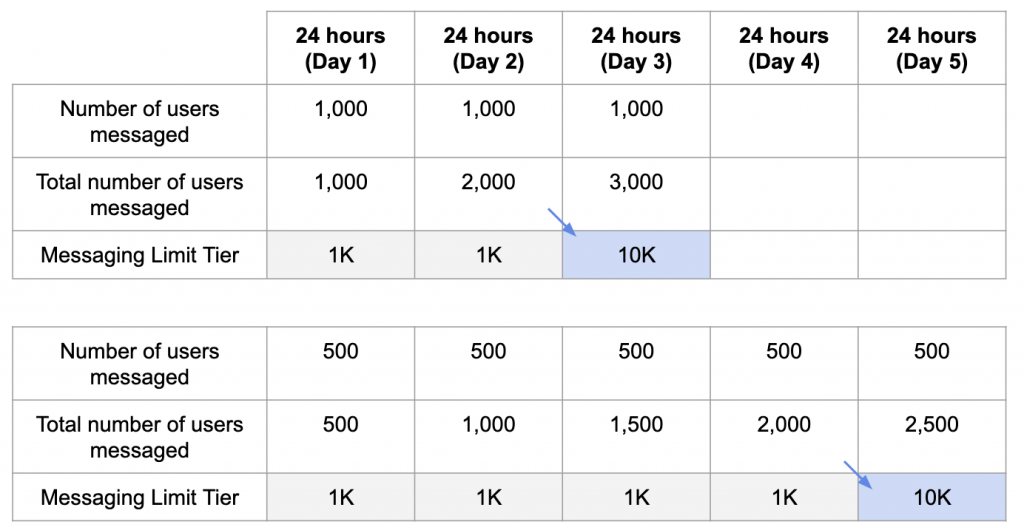 Example 2: The chart explains the concept of messaging limit in a rolling 24-hour window.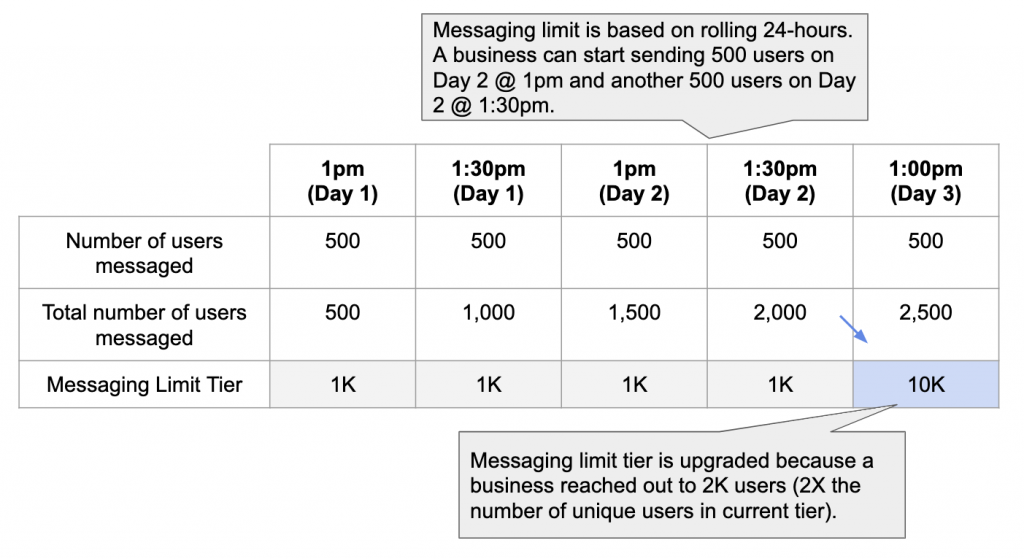 Phase Wise Roll Out
We highly recommend to roll out the WhatsApp Integration phase wise , if you have large customer base then segment them region wise and gradually start sending , please mind the messaging limits.
First test with your internal employees and gradually roll out for others.
Adhere Opt-In Rules
Only send messages to users who have opted into receiving messages from your business. Always make sure you are adhering to the WhatsApp Opt-In Guidelines to maintain high quality of rating.
Always give an option to customers for OPT-OUT by sending a specific keywords like OPTOUT, STOP, UNSUBSCRIBE etc
Make Conversation Personalise
Make the messages highly personalised and useful to users. Avoid sending open-ended welcome or introductory messages.
Mind Messaging Frequency & Time
Be mindful of messaging frequency, avoid sending customers too many messages a day. Be thoughtful of informational messages, optimising for content and length. Make sure you are sending messages at right time.
Dont create any scripts to send automated messages with the intention just to open the session.